How To Freeze Avocados
My daughter is a strange child. One of her favorite foods is avocado. Never mind candy, just give her a piece of toast with sliced or mashed avocado and she's happy. As a result I buy quite a few avocados, especially when they go on sale. If you are familiar with this unique little fruit (yes, it's a fruit not a vegetable), I don't have to tell you that they ripen quite quickly on the kitchen counter. Before I started freezing them, I had quite a few avocados go bad before we had a chance to eat them.
How To Freeze Avocados
Unfortunately you can't freeze avocado whole or sliced. Well, I guess technically you could, but you won't be happy with the results when you thaw them back out. You'll end up with a yucky brown mess.
But you can freeze mashed avocado quite well. Cut your ripe avocado in half and remove the pit. Scoop out the flesh and put it into a bowl. I like to do this with 4 or more avocados at a time. Now add a good splash of either lemon juice or white vinegar and mash everything together with a fork. Scoop it into freezer bags and freeze for up to 6 months.
You can thaw your avocado and use it in wraps, soups, sandwiches and of course to make guacamole.
I find it works best to let the avocados thaw in the fridge overnight. Just give them another good mash with the fork the next morning and you're ready to use them.
And now I would like to invite you to keep taking advantage of that freezer and learn more about freezer cooking.
Ready to give Freezer Cooking a Try? Order my Freezer Cooking Made Simple ebook and put it to work right away.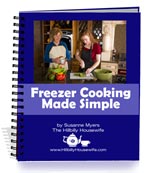 Disclosure: Some of the links below are affilate links, meaning, at no additional cost to you, I will earn a commission if you click through and make a purchase.