How To Clean Your Dishwasher with Vinegar And Baking Soda
You regularly clean your fridge, your oven and even run some vinegar water through your coffee maker… but how often do you clean your dishwasher? If you have an older model like me, you'll notice that your glasses aren't getting quite as shiny and clean and there may even be a bit of a smell to your dishwasher (even after you clean the filter).
There's a quick and easy way to give your dishwasher a deep cleaning and sanitize it. All you need is white vinegar, baking soda and a bit of time.
Start with your empty dish washer. Pour 1 cup of white vinegar in the bottom and run it on a long cycle. If you have a cleaning cycle, use that. Otherwise pick the pots and pans cycle or any other long one that uses plenty of hot water.
Once the dishwasher is done running, sprinkle about 1 cup of baking soda in the bottom of your dishwasher. Let it sit overnight. It will absorb any other funky smells. In the morning, do one more quick run without any dishes to clear out the baking soda and you're done.
Pretty easy but very effective.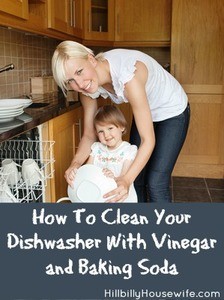 Disclosure: Some of the links below are affilate links, meaning, at no additional cost to you, I will earn a commission if you click through and make a purchase.