How Much Should I Charge For Yard Sale Items
Having a yard sale is a great way to make some quick cash and de-clutter your home in the process. But the age old question still remains; how much should I charge for yard sale items? In this article, I have a few tips to share with you that should give you more bang for the buck.
Properly pricing your items can mean the difference between making a good amount of money or having tons of leftover stuff that you either have to haul away to a thrift store, or repackage back up and store away for another time. By pricing your items for a fair price, you keep the repeat yard sale gurus coming back for more deals later on when you choose to have another yard sale later in the season. Hard core shoppers remember addresses where the best deals were found, so always try to make a good first impression with your pricing.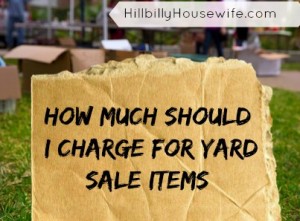 The first step to pricing your yard sale items is to determine the used value of the item you are selling. The rule of thumb is 10 to 20 percent of what it cost new, or 1/3 of the cost—based on what the item is. You can start by looking the item up on the Internet to find out what it is selling for new and then price it accordingly. Here is an example: You have an almost brand new coffee pot that is a popular brand that sells new for $15. Because it is in like new condition, you can ask around $5 for this coffee pot and feel good about the fair price you are offering your customers.
Do you have items to sell individually or in a set? If you have like items, such as dishes or toys, offer two ways of paying. Price each piece individually and then add a price (which should be cheaper) if they buy more than one piece. Dishes are a great example here. You can put together color coordinated pieces (that might not go together in a set) and offer 4 pieces for a $1.00 or .50 each (notice the discount for buying more pieces)?
Be sure and add some haggling room to your price. One of my favorite things to do at a yard sale is to haggle the price down. Now, if it is already a really great price and I know I am getting a great deal, I won't haggle, but just keep in mind that shoppers come to your yard sale looking for a bargain and they will most likely want to haggle so build that into your price so you still get what you would like for the item and yet give the customer the satisfaction of haggling you down on the price!
Here are a few examples of generic pricing you can use to go by when pricing your next yard sale:
Books: 25 cents for paperbacks and $1 for hardcovers. Offer a bundle deal to clear out the stash and make some extra cash.
Clothing: Children's clothing can go from 50 cents to $3, depending on the brand and condition. Clean and cared for clothes will bring more money than those that are just thrown in a box to be dug through.
Electronics: Price electronics in good condition for about 1/3 of the purchase price unless they were purchased that year. Then you can charge more.
Toys: Group small toys together (such as fast food toys) in a clear plastic bag and sell the entire bag for $1 or $2.
Furniture: Anything $10 and under should be placed in the yard sale to sale, but if you have larger pieces of furniture that are more expensive, then you should use Craiglist to sell those yard sale items. By doing so, you are more likely to sell it for the price you are asking.
I hope these tips will help you as you begin to price the items for your next yard sale!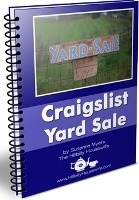 p.s. If the thought of hauling tons of stuff out to your front lawn, then sitting out there in the hot sun for hours, and hours, and hours, isn't very appealing to you, perhaps you should rethink that traditional yard sale.
Maybe it's time to discover the joys of holding a yard sale online with my new ebook Craigslist Yard Sale.
This guide gives you everything you need to know so you can avoid all the headaches of a traditional yard sale. You'll find the tools to help you plan your sale in the right way – whether you're selling one item or one hundred.
Here's a glimpse of what you'll learn in this comprehensive guide:
How to sign up for a Craigslist account and create your first listing.
Where to find all sorts of treasures that you can sell on Craigslist.
Important safety tips to keep yourself and your loved ones safe while selling online.
Learn about some great tips to improve your listings, picking the right price and placing it in the category that will get you the best results.
How to tweak your listings to sell items fast and for a good price.
Along with this you'll get these two bonuses absolutely free:
Bonus #1 – Home Inventory Checklists
Bonus #2 – Ebay Shopping Guide
Click on and order now to learn how you can turn your clutter into cash the easy way – on Craigslist.
Disclosure: Some of the links below are affilate links, meaning, at no additional cost to you, I will earn a commission if you click through and make a purchase.