Hot Dog & Veggie Stir-Fry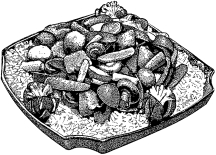 4 to 6 hotdogs or 1 can of SPAM or 8-ounces of baloney
2 tablespoons oil
4 large carrots
2 or 3 stalks celery
1 onion, sliced
Garlic Powder, Salt & Pepper to taste
Cooked Rice
When you prepare this recipe, you may use whichever meat you have available. They all taste good in this recipe. Try to cut the meat into narrow "match-stick" sized pieces. This shape is called julliene. I cut the hotdogs by slitting them long-ways into 4 to 8 long "worms". Then I quarter them short-ways to get a lot of pretty, skinny julliened hotdogs. Baloney can be stacked after removing the red plastic, and then cut into long skinny strips. Cut the Baloney in half, or thirds the other way and you will have pretty pieces. The SPAM is easy to cut and stack and slice into slivers.
The carrots are cut into narrow slices and then each slice is cut in half. The celery is cut into thin slices and the onion is halved and then sliced into thin half-moons. After preparing the vegetables and meat set it all aside.
Heat the oil in a large skillet over high heat. Add the vegetables. Stir-fry the veggies for at least 5 minutes, or until the onions begin to turn tender. Add the hot dogs or other meat. Cook and stir until the meat browns slightly. Season with Garlic, Salt & Pepper to taste. Add about 2 or 3 tablespoons of water to the skillet. Stir quickly until the water evaporates. There, you are done. Serve the stir-fry over cooked rice. Makes 4 servings.
The spiciness of the meat, the sweetness of the carrots, the subtle bitterness of the celery and the piquancy of the onions make this dish quite good.
VARIATION: If desired you can add 2 or 3 cups of finely sliced cabbage in addition to the other vegetables. Add them to the dish along with the other veggies.
Homemade bean sprouts are also a nice addition. Add them at the end, right before servings. Bean sprouts are best if they aren't overcooked.
Disclosure: Some of the links below are affilate links, meaning, at no additional cost to you, I will earn a commission if you click through and make a purchase.