Homemade Vitamin Water – Frugal Family Fun
When it's hot outside, it's important to get everyone in the family to drink plenty of water. This is particularly true when you're having fun outside riding bikes, going on nature walks or hikes, or for a swim.
It's easy to get dehydrated, but at the same time who likes drinking a lot of plain water (unless you're super thirsty). Soda and fruit juices can add up in calories quickly and aren't ideal for re-hydrating. Vitamin water is the latest trend. It tastes great and is good for you… but not that great on your budget. My alternative is to make your own. It's a lot of fun and you (and the kids) can get creative.
Make Your Own Vitamin Water
This couldn't be simpler. Get out a big pitcher. Slice up some of your favorite fruit and add it to the pitcher. Fill it with cold water and set it in the fridge. That's it.
This tastes great right away, but is even better when it sits for a few hours or overnight. Of course you can add ice cubes as needed… or try it with frozen fruit instead of the ice.
I love it with sliced strawberries and kiwi, or oranges and lemons for some extra Vitamin C.
As a fun project for the kids get out some large mason jars and let them add their own favorite fruit. Use the rest to make a big fruit salad.
For grown-ups, try adding some sliced cucumbers and a little ginger as well. I peel a small piece of ginger and add it to the pitcher or jar, being sure it doesn't make it into my glass when I pour my homemade fruit flavored water.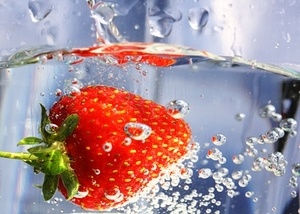 Disclosure: Some of the links below are affilate links, meaning, at no additional cost to you, I will earn a commission if you click through and make a purchase.