Homemade Sweet Potato Pie
2 cups cooked and mashed sweet potatoes
2 tablespoons melted butter
1/2 teaspoon vanilla
2/3 cup sugar
1/3 teaspoon salt
3 eggs
1/2 teaspoon cinnamon
1/2 cup cream
2 tablespoons brandy (optional)
1 unbaked pie crust
Preheat oven to 450 degrees.
Take a fork and prick small holes in the pie crust and bake empty pie shell for 10 minutes.
Place mashed sweet potatoes into a mixing bowl. Add melted butter, vanilla, eggs, and cream. Mix together and then add sugar, salt and brandy (optional). Mix well to get rid of any lumps.
Pour the sweet potato mixture into the cooked pie shell. Bake at 450 degrees for 10 minutes. Then reduce the heat to 350 degrees and bake for an additional 30 minutes.
You can serve this pie warm with whipped cream or ice cream. It is also great to have it cold from the fridge the next day.
Ready for more amazing Sweet Potato Recipes? You're in luck. I wrote a fun little kindle cookbook with 35 sweet potato recipes from sweet to savory. Click the image below to get your copy of If You Give A Housewife A Sweet Potato.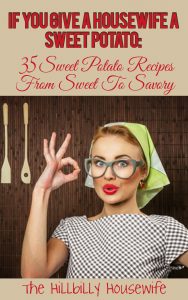 Disclosure: Some of the links below are affilate links, meaning, at no additional cost to you, I will earn a commission if you click through and make a purchase.