Homemade Strawberry Muffins
These homemade strawberry muffins are perfect when strawberries are in season.. They are yummy, look cute and best of all they freeze really well. In fact the recipe is straight out of my Freezer Muffin Kindle Cookbook.
Homemade Strawberry Muffins
Ingredients
1 3/4 cups flour
1 cup strawberries, chopped
1/2 cup milk
1/2 cup sugar
1/4 cup vegetable oil
1 egg
2 tsp. baking powder
1/2 tsp. salt
Instructions
In a small bowl, whisk milk, oil and egg, set aside. In a large bowl, mix flour, salt, baking powder and sugar. Toss in chopped strawberries and stir to coat with flour. Pour in milk mixture and stir together. Spoon batter into paper-lined muffin tin, filling the cups almost to the top.
Put in freezer for about 3 hours or until frozen. Once frozen, transfer to a gallon size freezer bag and store for up to 4 weeks.
To bake remove from freezer and place back into muffin tin. Bake at 375 degrees for about 30-35 minutes, or until the tops are golden brown.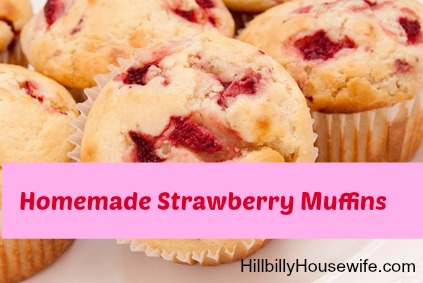 Ready for more delicious freezer muffin recipes?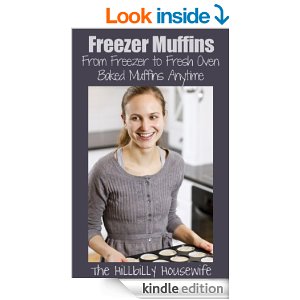 Freezer Muffins – From Freezer To Fresh Oven Baked Muffins 
Starting the morning off with piping hot muffins straight from the oven can make your family very happy.
Some of the recipes you'll find are:
Almost Apple Pie Muffins
Banana Chocolate Chip Muffins
Banana Nut Muffins
Blueberry Mango Muffins Topped with Coconut Streusel
Blueberry Orange Muffins
Chocolate Chocolate Chip Muffins
Cinnamon Apple Oat Bran Muffins
These are great alternatives to cereals or pop tarts on a busy schedule. You can also pack the more savory muffins in brown bag lunches in place of a sandwich for a yummy surprise.
Disclosure: Some of the links below are affilate links, meaning, at no additional cost to you, I will earn a commission if you click through and make a purchase.