Homemade Seasoning Salt
I love using a seasoning salt like what's sold in stores as Lawry's Seasoned salt, but I prefer to make my own. Not only is it more frugal, it also allows me to control all ingredients. That means that I know exactly what it is I'm sprinkling on my family's food and I can control how much of each item goes into the mix (adjusting it for our personal taste and health requirements).
It only takes a few minutes to mix together your own seasoning salt. I recommend you start out with a small batch and tweak it to your own liking. Write down any adjustments you've made and then mix up a big batch and store it in a clean, airtight container. I keep mine in a mason jar, transferring what I need into a smaller spice jar that stays close to my stove for cooking.
I sprinkle this particular mixture on pork chops, steaks, and chicken.
Homemade Seasoning Salt
Ingredients
2 tbsp salt
1 tbsp sugar
1/2 tsp paprika
1/4 tsp onion powder
1/4 tsp garlic powder
1/4 tsp turmeric
1/4 tsp corn starch
Instructions
Add each ingredient to a clean bowl. I use a glass measuring cup to make it easy to pour the finished mixture out later.
Mix everything until it is well combined and transfer it to a spice jar.
You can easily make this in larger batches.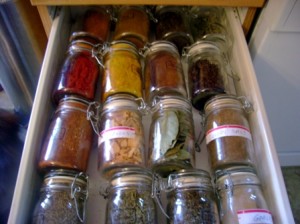 Disclosure: Some of the links below are affilate links, meaning, at no additional cost to you, I will earn a commission if you click through and make a purchase.