Homemade Pumpkin Pie Spice Mix
It's September and that means Fall's almost here and it's time for all thinks pumpkin and pumpkin spice flavored.
I don't know what it is about the end of summer, but even though it's still hot outside, I'm in the mood for that fall flavor. I can't wait to have my first pumpkin spice latte and bake up some pumpkin bread or pumpkin pie. Yum!
The base of it all is of course one of the handiest spice mixes around – the pumpkin pie spice. I used to get one or two large spice containers of this stuff and use it throughout the fall and winter. I finally realized that it would be just as easy and much cheaper to mix it at home.
It's great sprinkled in coffee or hot chocolate. I mix it into my oatmeal and of course bake with it.
Another great idea is to sprinkle a little of this mix into your freshly carved pumpkin before you light it. It smells wonderful.
Ready to mix up a batch of this yourself? Just get some good fresh spices, mix them up and store them in an air-tight container. I just use an old glass spice bottle that I cleaned really well.
Homemade Pumpkin Pie Spice Mix
Ingredients
1/3 cup ground cinnamon
1 tablespoon ground ginger
1 tablespoon ground nutmeg or mace
1-1/2 teaspoons ground cloves
1-1/2 teaspoons ground allspice
Instructions
Mix all spices and store them in an airtight container.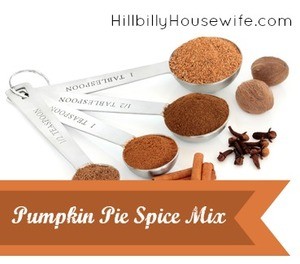 Disclosure: Some of the links below are affilate links, meaning, at no additional cost to you, I will earn a commission if you click through and make a purchase.