Homemade Powdered Cream Soup Mixes
I am looking to make homemade powdered cream soups to keep in my pantry. I live away from town and do not drive. Please help.

Thanks. Tonya
From the Hillbilly Housewife 
Hi Tonya, that's a great request. It's nice to have a mix or simple ingredients on hand to make a cup of soup. I have a couple of recipes to share with you, but I'm sure our amazing HBHW readers will have plenty more for you to try.
The first is my "Cream of Anything" soup mix. It's a great basic cream soup you can use in cooking, baking, or enjoy on it's own. It also has some great tips on  flavoring it.
The next recipe is a lunch favorite around here. It's cream of tomato soup. While this isn't a powdered type mix, it's quick, easy and uses pantry items. I think you'll like it.
Last but not least, here's a brand new recipe. It's something I've been making for a while, but hadn't gotten around to writing up until I saw your email. It's a recipe for instant potato soup. It's great for camping, you can keep it at your office desk and fix a quick lunch in the breakroom and of course it's perfect to keep in the pantry as well.
I hope these three recipes get you started and I look forward to reading what HBHW readers come up with.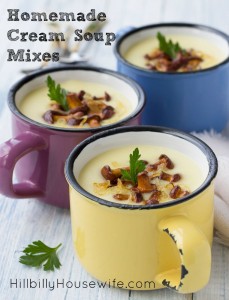 Got a recipe to share? Just leave a comment below – Thank you!
Disclosure: Some of the links below are affilate links, meaning, at no additional cost to you, I will earn a commission if you click through and make a purchase.