Homemade Pimento Cheese
Pimento cheese is one of my husband's favorite sandwich spreads. We like it on toasted bread. There's a really good brand of local pimento cheese at the grocery store here, but it's also quite pricey. Instead I started using this homemade pimento cheese recipe. It's absolutely delicious. I make a batch anytime I can find sharp cheddar on sale.
By the way, you can save a bundle by grating your own instead of buying the expensive bagged cheese. Just look for large blocks on sale and use a box grater to grate your own at home.
Pimento Cheese Recipe
Ingredients
1 large can evaporated milk
1 lb. grated sharp cheese
7 ozs pimentos (a small jar)
2 tbsp vinegar
½ tbsp dry mustard
salt (to taste)
cayenne pepper (to taste)
Instructions
Place milk into a saucepan and heat. After milk is hot, add cheese. Stir until the cheese melts. Add pimento and the other ingredients. Stir well then put in the refrigerator. Let stand in the fridge until it thickens.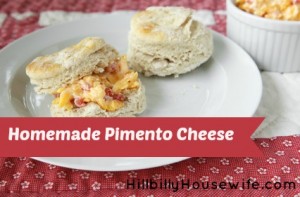 This pimento cheese goes well on toasted bread. If you are looking for a healthy snack place the pimento cheese on celery stalks.
The Hillbilly Housewife Recommends – Dining On A Dime

The Dining On A Dime Cookbook is packed with over 1,200 money saving recipes and tips, kids tips and snack ideas, gift baskets, menus, food storage directions, Cleaning Cents and Pretty for Pennies. The recipes are easy to cook with ingredients that you probably already have in your pantry. To make shopping easy and economical, it also includes a pantry list and a shopping list.
Order your copy today at http://www.hillbillyhousewife.com/dime
Disclosure: Some of the links below are affilate links, meaning, at no additional cost to you, I will earn a commission if you click through and make a purchase.