Homemade Kettle Corn
Last night I posted a new Frugal Tip about having a family movie night. An essential ingredient for us is popcorn. While any popcorn will do, my absolute favorite is Kettle Corn. There's just something about the sweet and salty combination on every single crunchy kernel.
Yes, you can buy the microwaveable kind. It's fairly inexpensive and only takes a few minutes to pop in the microwave. In fact, if you would have come over to my house 5 months ago, there's a pretty good chance you would have seen some of that in my pantry. Then our microwave broke and we made it a bit of a challenge to see how long we could live without it. Despite the fact that I could most of our meals from scratch, we had gotten quite depended on it. We used it to heat up leftovers, reheat coffee that had gotten cold and the likes.
It took a little time to adjust but we were managing quite well without it. Until we all sat down to watch a movie and were missing the popcorn. We still had some microwave bags left over, and my husband decided to pop them in a large pop with a lid. It was very easy and almost as fast as the microwave version. And the taste was soo much better.
I picked up some popcorn kernels on my next shopping trip and started to experiment. Here's my favorite version of sweet and salty Kettle Corn. Give it a try and see if you don't like it better than the store bought kind.
Homemade Kettle Corn
Cook time:
Total time:
Ingredients
1/2 cup popcorn kernels
1/4 cup sugar
1/4 cup vegetable oil
Salt to taste
Instructions
[img src="http://www.hillbillyhousewife.com/site/wp-content/uploads/2013/08/bowl-of-popcorn-300×199.jpg" alt="" width="300″ height="199″ class="alignright size-medium wp-image-23239″]Get out a large pot with a lid. I have one with a long handle and a glass lid that works really well. Add the vegetable oil and heat it over medium heat.
Add your kernels and and the sugar. If you're not sure if the oil is hot enough, toss in a couple of kernels and see if they pop.
Add the lid and holding the lid with one hand, move the pan around, tossing the kernels in the vegetable, sugar mixture. Alternate having it on the heat and moving the kernels around by gently shaking the pot right above the burner until most of them have popped.
Pour your movie snack into a large bowl and add some salt to taste.
I recommend you grab a big handful as you're taking it over to your family. It'll be gone fast it's so good.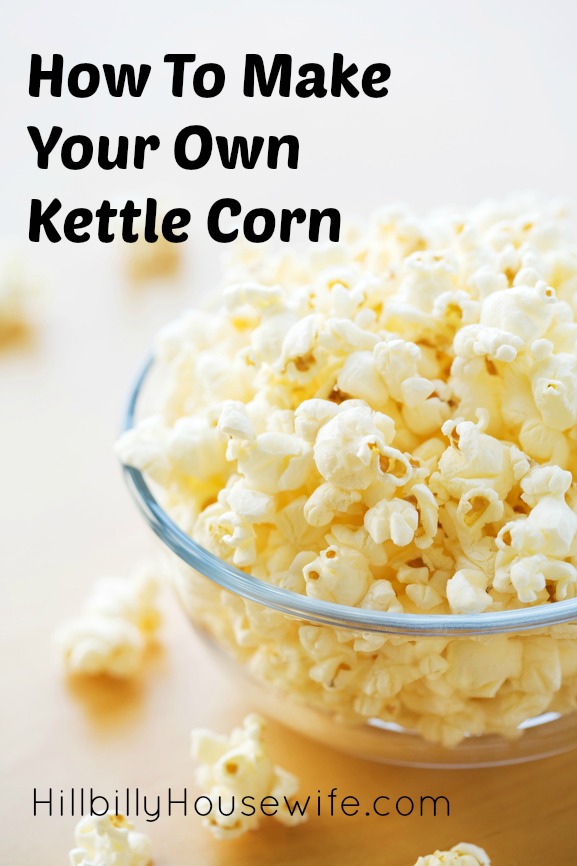 Disclosure: Some of the links below are affilate links, meaning, at no additional cost to you, I will earn a commission if you click through and make a purchase.