Homemade Christmas Gifts – HBHW Advent Calendar Day 2
From the comments and emails I've gotten yesterday, y'all seem to be just as excited as I am about the HBHW advent calendar idea. I sat down last night and planned it all out through Christmas Eve … and I have a special surprise planned for the last one.
Today I thought we'd continue to focus on frugal gift ideas. I'm always looking for meaningful gifts that don't cost much. They are perfect for teachers, neighbors, the mail person etc. But it doesn't have to stop there… even close loved ones appreciate a gift from the heart that you thought about and made. It's often more valuable than an expensive one.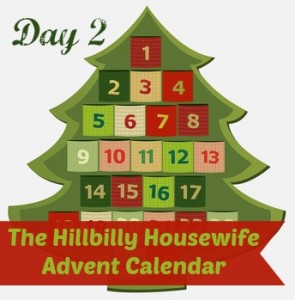 Last year for example, I knit a pretty red sweater for my daughter. It reminded her of a favorite character from a book (Hermonine from the Harry Potter books) and she calls it her Hermonie sweater. It has a lot more meaning to both of us than anything I could have bought at the store.
Looking for some great ideas? Today I would like to give you my Homemade Christmas Gifts and More Kindle book.
It's a FREE download at Amazon.com. Just click the link below to download it. You don't even need a Kindle to read it. You can view the book right on your computer or use the Kindle app for tablets and smart phones.
I hope you enjoy today's Advent Calendar gift and put it to good use. Browse through it and let me know what you're planning on making… or leave a comment with your own favorite homemade gift idea.
Homemade Christmas Gifts and More
Would you like to steer clear of the holiday shopping crowds? You can with this guide to Homemade Christmas Gifts and More.
Making Homemade Christmas gifts is one way to actually enjoy the process of gift-giving. Not only are homemade gifts and decorations frugal, they're more fun!
We don't have to rush out to the mall to shop for Christmas when we have ideas for creating gifts right at home. Take time to enjoy your holiday season. Click on and download now to start planning your frugal AND fun Christmas.
www.hillbillyhousewife.com/christmasbook
Disclosure: Some of the links below are affilate links, meaning, at no additional cost to you, I will earn a commission if you click through and make a purchase.