Homemade Buttermilk Waffle Recipe
I'm looking for a good waffle recipe that uses buttermilk and maybe oil. I have several , but no really good recipe. Any tips for making great homemade waffles would also be appreciated.
Oh, and if you have a yeast waffle recipe, I'd be interested in that as well.
Carolyn
From The Hillbilly Housewife
Here's the recipe I've been using. I find that the biggest difference is in what type of waffle iron you use and to make sure you let it preheat long enough before each waffle you make.
Homemade Buttermilk Waffle Recipe
Ingredients
2 cups all-purpose flour
1 teaspoon baking powder
1/2 teaspoon salt
1 teaspoon baking soda
2 eggs
2 cups buttermilk
4 tablespoons butter
Instructions
Start by melting the butter. I do this by putting it into a small bowl and microwaving it in 10 to 15 second intervals until it is melted.
Crack the eggs into another small bowl and beat them until they are well mixed.
Combine the dry ingredients in a medium sized bowl and give it a good stir to get everything mixed together. Pour the wet ingredients in and whisk everything together into a pourable batter.
Following your waffle iron's instructions, pour the batter into a hot and oiled waffle iron and cook them until the waffles are golden brown and crispy.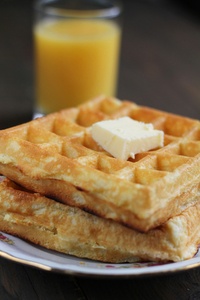 Serve with butter and sirup or just sprinkle some powdered sugar on them. Add some milk and fresh juice for a complete breakfast.
I'm sure there's some other great tried and true family recipes out there. If you have one to share with Carolyn (and the rest of us of course), share it in a comment below.
Disclosure: Some of the links below are affilate links, meaning, at no additional cost to you, I will earn a commission if you click through and make a purchase.