Homemade Buttermilk Pound Cake Recipe
It all started around Thanksgiving. Each year I buy a half-gallon of buttermilk to make the biscuits and cornbread that go into my homemade cornbread dressing. The rest of the year I use regular milk in those recipes, but for Thanksgiving and Christmas I "splurge" on some buttermilk. It tastes richer I think and it's what my mother-in-law has always done. We don't use a lot of buttermilk otherwise and a batch of dressing uses only about a third of the buttermilk. There are only so many batches of homemade biscuits I can make before the buttermilk starts to expire, so this year I searched around for other yummy recipes that use it as part of their ingredients. The one that caught my eye was a buttermilk pound cake. We love a simple, but tasty cake around here, so I started playing around with a few different recipes.  Here's my spin on a traditional buttermilk pound cake that's quickly becoming a family favorite. My daughter's birthday was this part week and guess what cake she asked for?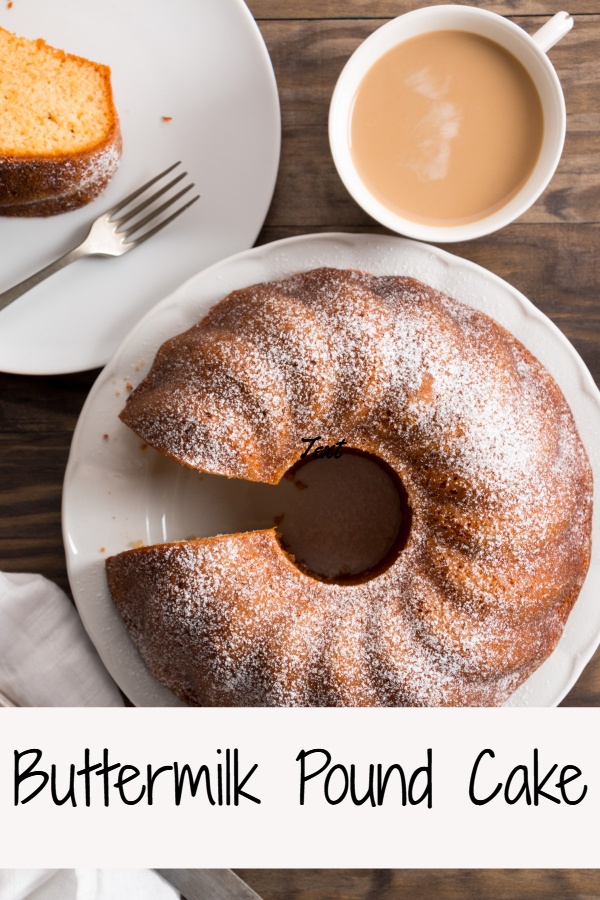 A few tips before we get into the actual recipe. Use a hand mixer or kitchenaid. While you could stir the batter by hand, you really want to cream the butter and sugar well for a light and fluffy cake. Allow the butter to soften to room temperature before you start to mix the batter. Last but not least take your time when creaming the butter and sugar, and again when adding the eggs. If you rush this part, you end up with a still tasty, but extra dense pound cake.
This recipe makes one regular bundt cake. You could also bake it in two loaf pans.
You can glaze the finished cake, eat it as is, or sprinkle a little powdered sugar on top. We prefer plain cake around here, but I will add a little dusting of sugar if I'm serving it to guests or taking it for a potluck, bake sale or the likes. Since the cake includes plenty of eggs, I think it makes perfectly acceptable breakfast food. I may or may not be enjoying a slice with my coffee while typing up the recipe.
Recipe for a simple but delicious buttermilk pound cake.
Ingredients
3 cups all-purpose flour
1/2 tsp baking powder
1/4 tsp salt
1 cup butter (2 sticks) at room temperature
2 cups brown sugar
1 cup white sugar
6 eggs
1 cup buttermilk
1 tsp vanilla extract
powdered sugar for sprinkling (optional)
Preheat the oven to 325F.
Combine the flour, baking powder, and salt. Set aside.
Cream the butter and sugar until well combined and fluffy using a hand-mixer.
Add the eggs one at a time, mixing well after each addition.
Switch to mixing by hand and add half of the flour mixture to the bowl. Stir just until combined. Add half the buttermilk and stir until incorporated. Repeat with the remaining flour and buttermilk. Add the vanilla and stir to combine.
Grease and flour a bundt pan and pour the batter into it. Bake for 90 minutes.
Allow the cake to cook for a minimum of 15 minutes before removing it from the pan.
Top with powdered sugar if desired.
https://www.hillbillyhousewife.com/homemade-buttermilk-pound-cake-recipe.htm
Copyright www.HillbillyHousewife.com
Disclosure: Some of the links below are affilate links, meaning, at no additional cost to you, I will earn a commission if you click through and make a purchase.