Homemade Alfredo Sauce
Reader Question:
I am a big fan of alfredo and would like to eat it a lot but the good sauce is horribly expensive and even the cheap, strange tasting stuff is almost $2 a jar. I would love to be able to make up my own sauce from scratch.
Here's how I make it
Homemade Alfredo Sauce
Ingredients
1 stick of butter (salted)
1 cup of cream
1/2 cup of parmesan cheese (grated).
Instructions
Add everything to a small sauce pan and heat on medium heat until the butter and cheese are melted.
Season with salt and pepper to taste.
There are a few more recipes in the comments below. Enjoy!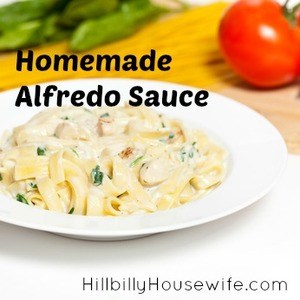 Disclosure: Some of the links below are affilate links, meaning, at no additional cost to you, I will earn a commission if you click through and make a purchase.