Holiday Spinach Dip
I like to keep the  ingredients for this festive dip on hand in December. I can whip up some dip and serve it with crackers when friends stop by and it's always a big hit at pot lucks. Of course I also make a batch for Christmas Day. We often get together with our extended family and it always takes quite a while to get everyone there and finish up dinner. The dip makes the perfect appetizer and keeps the kids (and grown-ups) fed and entertained while the ham finishes baking and the side dishes are set up. I hope you and your loved ones will enjoy this holiday spinach dip as much as we have.
Serve it in a bread bowl or use a pretty Christmas bowl and assorted crackers and pita slices.
Holiday Spinach Dip
Ingredients
1 8 oz. pkg. Sliced Water Chestnuts
2 10 oz. pkgs. Frozen Chopped Spinach, thawed and drained
1 4 oz. pkg. Blue Cheese
3/4 C. Red Pepper, Chopped
1/2 C. Celery, Chopped
1/2 C. Green Onion, Chopped
2 C. Sour Cream
Half of a .65 oz. pkg. of Garlic Dressing Mix
1 C. Mayonnaise
Instructions
Combine the spinach and blue cheese in a medium mixing bowl.
Add the following ingredients: celery, green onion, red pepper, water chestnuts, and garlic dressing mix, set aside.
In a small bowl, thoroughly mix the mayonnaise with the sour cream.
Slowly mix the sour cream mixture in with the water chestnut mixture and stir until well blended. (You should be able to spread the mixture easily.)
Place mixture in a bowl and serve…or, you can place it in a hollowed out red cabbage for some extra color!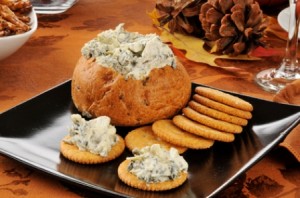 Would you like to steer clear of the holiday shopping crowds? You can with this guide to Homemade Christmas Gifts and More.

Making Homemade Christmas gifts is one way to actually enjoy the process of gift-giving. Not only are homemade gifts and decorations frugal, they're more fun!

We don't have to rush out to the mall to shop for Christmas when we have ideas for creating gifts right at home. Take time to enjoy your holiday season. Click on and download now to start planning your frugal AND fun Christmas.
Disclosure: Some of the links below are affilate links, meaning, at no additional cost to you, I will earn a commission if you click through and make a purchase.