Holiday Sausages in Homemade Barbecue Sauce
I'm sure you've come across a variation of this recipe or tasted something similar at a potluck. This little smoked sausages in barbecue sauce make a perfect holiday treat. You can serve them right away, or pour everything into a slow cooker to keep warm. Either way they are very delicious and always a crowd pleaser. Perfect for Holiday Parties or as a special afternoon snack for your family.
Holiday Sausages in Homemade Barbecue Sauce
Ingredients
1 Chopped Onion
2 T. Butter
1 1/2 C. Ketchup
1/2 C. White Vinegar
2 t. Paprika
2 t. Dry Mustard
2 t. Worcestershire Sauce
2 t. Chili Powder
1 t. Tabasco Sauce
1 t. Black Pepper
1/2 C. Brown Sugar
1-2 Pkgs. Lit'l Smokies (Hillshire Farm)
Instructions
In a small saucepan, sauté chopped onions in the butter.
Combine the remaining ingredients (minus Lit'l Smokies) together in a crockpot. Stir in onion and mix well.
Add the Lit'l Smokies to the mixture and stir well.
Turn Crockpot on low and cook for several hours. (Hint – these little guys get better and better the longer they simmer)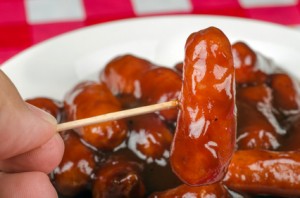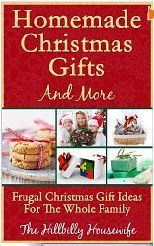 Would you like to steer clear of the holiday shopping crowds? You can with this guide to Homemade Christmas Gifts and More.
Making Homemade Christmas gifts is one way to actually enjoy the process of gift-giving. Not only are homemade gifts and decorations frugal, they're more fun!
We don't have to rush out to the mall to shop for Christmas when we have ideas for creating gifts right at home. Take time to enjoy your holiday season. Click on and download now to start planning your frugal AND fun Christmas.
www.hillbillyhousewife.com/christmasbook
Disclosure: Some of the links below are affilate links, meaning, at no additional cost to you, I will earn a commission if you click through and make a purchase.