Holiday Clam Chowder
Cold winter mornings like today always have me craving soup. I don't care much for canned clam chowder, but this made from scratch version is a different story. It's a yummy treat and the recipe below makes a nice big batch of soup. It's a nice holiday treat for your guests and with a little luck, there'll be leftovers to enjoy the next day.
Clam Chowder Recipe
Ingredients
6 Cans Chopped Clams, undrained
5 C. Diced Baked Potatoes, peeled
4 Bottles Clam Juice
3 C. Milk (fat-free is preferred)
1/2 C. Flour
1 Onion, chopped
2 Slices of Bacon
1 1/4 C. Celery, chopped
1/2 t. Dried Thyme
1/2 t. Salt
2 Minced Garlic Cloves
1 Bay Leaf
Instructions
In a dutch oven, over medium heat, cook the bacon until crispy.
Then, save 1 teaspoon of the drippings in the pan, remove bacon and crumble; set aside.
Combine the celery, onion, thyme, salt and garlic to the 1 teaspoon of drippings still in the dutch oven and cook until the celery and onions are tender.
Drain the cans of clams and reserve the liquid. Then, place clam liquid in the dutch oven followed by the potatoes, bay leaf and clam juice, bringing mixture to a boil.
Once a boil is reached, reduce the heat and continue to simmer for roughly 15 minutes. Remove the bay leaf.
Add the flour and milk to the mixture and stir until consistency is smooth and add flour mixture to the contents of the pan; bring to a boil.
Cook until soup thickens (about 12 minutes); constantly stirring.
Finally, add the clams and cook for an additional 2 minutes and top with bacon.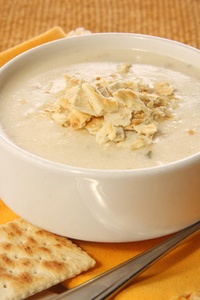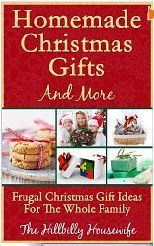 Would you like to steer clear of the holiday shopping crowds? You can with this guide to Homemade Christmas Gifts and More.
Making Homemade Christmas gifts is one way to actually enjoy the process of gift-giving. Not only are homemade gifts and decorations frugal, they're more fun!
We don't have to rush out to the mall to shop for Christmas when we have ideas for creating gifts right at home. Take time to enjoy your holiday season. Click on and download now to start planning your frugal AND fun Christmas.
www.hillbillyhousewife.com/christmasbook
Disclosure: Some of the links below are affilate links, meaning, at no additional cost to you, I will earn a commission if you click through and make a purchase.