Hillbilly Housewife Advent Calendar Day 13 – Healthy Eating
Between the cookies and other Christmas treats, we haven't exactly been eating healthy the last few days. Ok, who am I kidding… we haven't eaten all that clean since Thanksgiving. I'm feeling the pounds creeping on and my shoulder is starting to ache again… all good signs that I need to clean up my act a bit and eat something that's good for my body.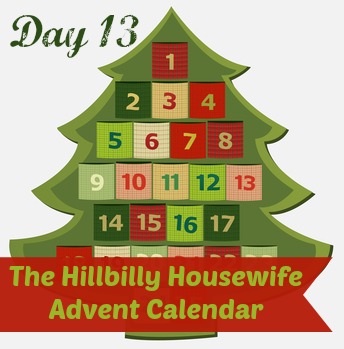 I'm determined to cook healthy meals for my family until Christmas. Yes, we'll be having the occasional cookie or a piece of cake, and of course there will be plenty of not so healthy treats on Christmas. But I want to make an effort to keep our main 3 meals each day healthy with plenty of veggies and lean meat. Are you with me?
If so, I'd like to help you out and offer you "Healthy Eating on a Budget" for half price as today's Advent Calendar treat. Just use coupon code "ADVENT" to save 50% during checkout.
Preparing healthy food for my family while still staying within a budget can be hard.  To make things simpler, I've done a little bit of research to figure out which budget friendly foods are ALSO healthy.  Once I had my list created, I started to gather some of my favorite recipes together so I we wouldn't get bored eating the same old beans, rice & eggs and I'm happy to share it with you today…

Just click on Healthy Eating On a Budget to order your copy today!

http://www.hillbillyhousewife.com/ebooks/healthybudget.htm
Today's Question:
There are all sorts of healthy Holiday treats. What's your favorite healthy food around the holidays?
Leave a comment below and share your ideas and recipes.
Disclosure: Some of the links below are affilate links, meaning, at no additional cost to you, I will earn a commission if you click through and make a purchase.