Have A Family Game Night – Frugal Summer Fun
Summer around here always ends up being much busier than I anticipate. We end up doing lots of running around and traveling. It's nice to slow things down and have fun playing board games. This is perfect for a rainy afternoon or as an "after-dinner" activity for the whole family.
Dust of those old board games or grab a deck of cards and get set at the kitchen table. Introduce some of your favorite games from childhood to your kids, or let them pick and start playing.
Do your best to make sure the games are fun and appropriate for everyone in the family, but don't feel like you're limited to just Candyland. Start there if you have very young children, and then move on to something more complicated like monopoly and have the youngest family member play along with a parent if things get too hard for her.
If everyone is having fun (I'm sure they will), consider making this a weekly family tradition. What a wonderful way to spend time together and create memories.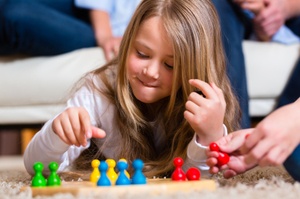 Disclosure: Some of the links below are affilate links, meaning, at no additional cost to you, I will earn a commission if you click through and make a purchase.