Hamburger Corn Casserole
This is a simple recipe and only takes one pan. Here is what you need:
1 lb hamburger
1 green bell pepper diced
1 15 ounce can tomato sauce
1 small bag frozen corn
1 cup minute rice
chilli powder to taste
2 cups shredded cheddar cheese
1/2 cup chopped onion
1 cup water
In frying pan, Brown hamburger, bell pepper and onion. Drain off fat, add tomato sauce, corn, water and chilli powder. Bring to boil. Add minute rice and turn down to simmer. When excess liquid is reduced sprinkle cheese over top and turn off from heat. Serve when cheese is melted.
enjoy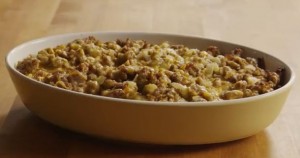 Disclosure: Some of the links below are affilate links, meaning, at no additional cost to you, I will earn a commission if you click through and make a purchase.