Halloween Costumes For Kids – Create Simple Frugal Costumes
I love Halloween, but I don't love the expensive "designer" costumes that I see in all the stores.  Even the discount stores have racks filled with expensive character costumes that kids know and want.
I'm appalled at the prices of these much sought after costumes and can't bring myself to fork-over my hard earned money to purchase them.  If I purchase even one of these costumes, it means I don't put gas in my car this week, I can't buy a present for a birthday party, we eat beans for two weeks, and the dog doesn't get his vaccinations.  Life will go on without a "designer" costume.
It's time to get creative and skip the whole designer costume idea.  Here are a few wonderfully fun ideas for simple Halloween costumes for all ages:
Pile of Leaves
Take a big, old, dark brown T-Shirt that hangs down to your little one's knees. Then take fabric glue and a sack of fall color leaves (you can buy at a craft store), and just glue the leaves all over the shirt.  Then, take an old bandana scarf or hat and glue more leaves all over it and tie it on her head.  Dress your child in a turtleneck shirt and tights and you'll have the cutest little pile of leaves you've ever raked!
Hello My Name Is
Take a big rectangular piece of poster board, poster paint, and an "Hello My Name Is" name tag, and proceed to copy the design of the name tag onto the poster board. Then write her name or even a favorite rock star's name, or business tycoon's name on the line.  Punch two holes in the top of the name tag and use big safety pins to pin the tag on the shoulders of a big bright colored sweat shirt. Dress your child underneath in a dark turtleneck and black tights or pants and the look is complete. The name tag is certainly an icon that's recognizable, and humorous.
Climbing Rose Trellis
When looking around the house and garden, you may discover a lot of stuff piling up just waiting to be used for costumes.  An old wooden rose trellis that isn't being used can be cleaned up and put to work. With a few bits of miscellaneous silk flowers left over from crafts, you can string together a bunch of flowers and attach them to the trellis as if they were climbing.  Then take a paper bag, cut it in the shape of a clay pot, and staple it to the bottom of the trellis.  Attach the trellis to your youngster's body with a couple lengths of big elastic and tie each length over the top of the trellis, making a loop to slip the arms through. To complete the look, pin some of the flowers on the top of a baseball cap.
Telling children "No" isn't easy.  You want them to have everything their little hearts desire. But, part of the fun of Halloween is being creative.  Buying designer costumes off a rack isn't very creative, but putting your mind to work on these fun costumes is.  Let your imagination run wild!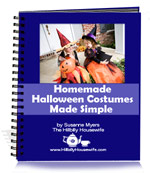 p.s.  If these simple Halloween costumes appeal to you, perhaps you'd appreciate even more ideas!  Click on to order your very own copy of Homemade Halloween Costumes Made Simple.
Save money and have fun creating one-of-a-kind costumes for your little ones.
You get  everything you need in  this comprehensive ebook, including Over 90 Homemade Costume Ideas and the Supplies list for each costume, along with a Description on how to make each costume.  You'll also find ideas for Fun accessories for most costumes, Ideas for siblings costumes, and Last Minute Costume Ideas.
Along with all that, you'll get these bonuses absolutely free:
Fun Halloween Foods For Kids valued at $9.95
Face Painting for Halloween valued at $9.95
Order today and start having fun making your own Halloween costumes!
Disclosure: Some of the links below are affilate links, meaning, at no additional cost to you, I will earn a commission if you click through and make a purchase.