Guluska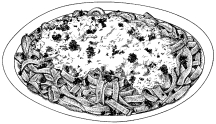 1 head cabbage
8 oz wide noodles
1/4 lb margarine
Salt, pepper and paprika to taste
Cut cabbage fine. Add salt, pepper and paprika. You may add other spices as well (garlic, onion, etc) depending upon your family's tastes. I don't, as we like the simplicity of this dish as is. Cook until limp in margarine. Boil noodles according to package directions while cabbage is cooking. Mix cabbage and noodles together and cook 5 minutes more. Adjust seasonings and serve.
This is a Czechoslovakian dish – thus the interesting name. Submitted by HBHW Reader Starr H.
Disclosure: Some of the links below are affilate links, meaning, at no additional cost to you, I will earn a commission if you click through and make a purchase.