Green Beans with Ham & New Potatoes – Crockpot
I'2 pounds fresh green beans, snapped in half, rinsed and drained
1 large onion, diced
2 large ham knuckles (with some meat)
1 to 2  lbs. new red potatoes, cut in half
1 teaspoon garlic powder
1 teaspoon salt
1/4 teaspoon ground black pepper
Put beans, onion, and ham bones in crockpot with just enough water to cover the beans.  Turn crockpot to low and let cook covered for 3 to 4 hours. Remove the ham bones and set aside.
Add potatoes and seasonings to crockpot, cover and continue cooking on low for 1 hour or until potatoes are tender. In the meantime, remove good meat from ham bones and set meat aside, discarding the bones.  When potatoes are tender, turn off crockpot and put good meat in, and stir together.  Serve immediately.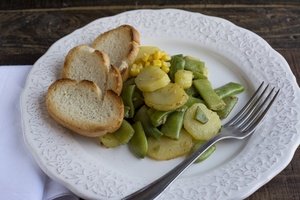 Ready to learn more about crockpot cooking? Get my Crockpot Cooking Made Simple ebook today and find out how you can work this into your meal plan, how to choose a good crockpot and most importantly how to convert your favorite recipes to work in a slow cooker.
http://www.hillbillyhousewife.com/ebooks/crockpotcooking.htm
Disclosure: Some of the links below are affilate links, meaning, at no additional cost to you, I will earn a commission if you click through and make a purchase.