Go On A Thrift Store Treasure Hunt – Frugal Summer Fun
We've had some rain the last two days which kept us cooped up in the house. Yesterday afternoon cabin-fever hit and I had to get creative. Since we have a decent thrift store close by and I needed to head over there to look for some new shirts and shorts for school, I decided to turn it into a fun outing.
Getting The Kids Involved
I don't know about your kids, but mine isn't a big fan of cloth shopping, to make it more fun, I turn it into a treasure hunt of sorts. Here's the basic idea.
Give each child a few dollars and let them shop in the store for whatever they want to buy while you look around for things they may actually need (or just have fun yourself). This is a great opportunity to teach them about the value of money and looking for a good bargain. Encourage them to think about how much the item they picked would cost new at a regular store and then make a decision about how good of a deal they are getting.
If you are shopping somewhere like Goodwill or the Salvation Army store, you can also teach them about the value of these companies in giving work to people who may otherwise have a hard time finding a job and you can muse about what person may have donated the things you're buying.
Most of all, have fun with it. You'll be surprised what kinds of interesting things you can find at the thrift store if you're treating it like a treasure hunt.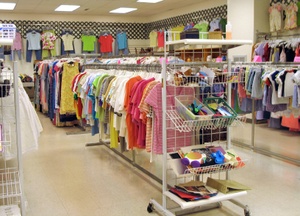 Disclosure: Some of the links below are affilate links, meaning, at no additional cost to you, I will earn a commission if you click through and make a purchase.