Old Fashioned Gingerbread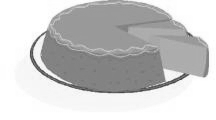 1 cup molasses or sorghum
1/2 cup hot tap water
6 tablespoons melted margarine
1/2 teaspoon salt
1-1/2 teaspoons ground ginger
1 teaspoon baking soda
2 cups whole wheat or white flour
This recipe is ancient. Folks used to make it before sugar was as widely available as it is today. First melt the margarine. Combine it in a big bowl with the molasses, hot tap water and salt. Blend well. Add the ginger, baking soda and flour. Stir again. Try to make the batter smooth. Turn the mixture into a well oiled 9-inch round cake pan. Bake at 350° for about 30 to 35 minutes. A fork or tooth pick inserted into the center of it will come out clean, and the edges will pull away from the sides of the pan. Cool for a few minutes on the counter before cutting. I usually make 12 wedges, but you could also make 8 for hungry folks. Wrap any leftovers in tin foil and store in the fridge.
This recipe has no sugar, and no extra spices to compete with the ginger. It is my favorite recipe for gingerbread. I don't frost it, but you could if you liked. A plain vanilla frosting would be best.
Disclosure: Some of the links below are affilate links, meaning, at no additional cost to you, I will earn a commission if you click through and make a purchase.