Ginger Cream Bars
My mother made these over 50 years ago (and unfortunately I lost the recipe).
It is a very heavy, moist ginger flavored cake/bar which she would frost with a cream frosting.
From the Hillbilly Housewife:
I have a ginger bread cake recipe that sounds similar to what you're looking for. I don't usually frost it though. If I'm taking it out for company, I sprinkle some powdered sugar on top, but to be honest, I prefer it plain. You could easily top it with a simple frosting though.
I'm sure there are plenty other good recipes out there and our readers will share some of their favorites with you as a comment below.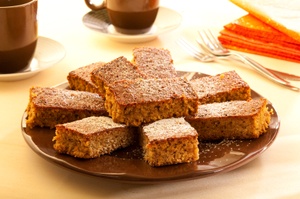 Disclosure: Some of the links below are affilate links, meaning, at no additional cost to you, I will earn a commission if you click through and make a purchase.