Roasted Garlic & Onion Potatoes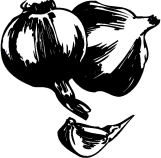 6 medium potaotes, peeled and cut into chunks (about 6 cups)
1 medium onion, chopped
1 or 2 tablespoons minced garlic
2 or 3 tablespoons olive oil
1 teaspoon salt
several dashes pepper
Begin by preparing the potatoes. Peel them first and then cut them into bite-sized chunks. Arrange the potatoes in a well oiled 8-inch square pan. Scatter the chopped onion and minced garlic over top of the potatoes. Sprinkle the it all with the olive oil. Measure the salt and sprinkle it over the potatoes along with a few good dashes of pepper. Cover the dish with aluminum foil. Bake at 400° for about an hour. Remove the foil and continue baking for 20 to 30 minutes, or until the potatoes are browned and tender. Serve hot. Makes about 6 servings.
This can be one of the main dishes for a vegetarian meal, or an accompaniment to chicken or fish.
Disclosure: Some of the links below are affilate links, meaning, at no additional cost to you, I will earn a commission if you click through and make a purchase.