Garlic Rosemary Potatoes
This is one of my favorite side dishes, not only during the holidays, but also throughout the year. It goes great with any type of meat or fish. In the summer it's wonderful with grilled chicken, but it really shines on the holiday table. I love the smell of rosemary this time of the year and these potatoes are simple to make but look impressive and tasty. Don't forget to set aside a few sprigs of fresh rosemary to use as a garnish.
Garlic Rosemary Potatoes
Ingredients
1 1/2 lbs. New Potatoes, small and scrubbed
3 Garlic Cloves, crushed
2 T. Olive Oil
1/2 t.fresh Rosemary
Instructions
Preheat your oven to 400 degrees Fahrenheit.
If needed, cut the potatoes into bite-sized chunks.
In a large mixing bowl, combine the new potatoes, olive oil, garlic cloves and rosemary together. Make sure to stir until all the potatoes are coated with the other ingredients.
Place the potato mixture in a roasting pan and spread it out evenly.
Place in the oven and bake for roughly 45 minutes. The potatoes should be soft and golden brown in color when done.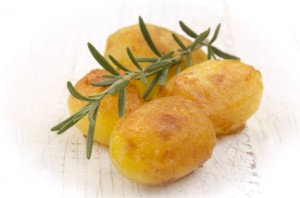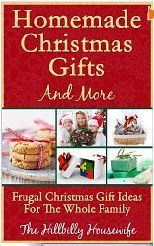 Would you like to steer clear of the holiday shopping crowds? You can with this guide to Homemade Christmas Gifts and More.
Making Homemade Christmas gifts is one way to actually enjoy the process of gift-giving. Not only are homemade gifts and decorations frugal, they're more fun!
We don't have to rush out to the mall to shop for Christmas when we have ideas for creating gifts right at home. Take time to enjoy your holiday season. Click on and download now to start planning your frugal AND fun Christmas.
www.hillbillyhousewife.com/christmasbook
Disclosure: Some of the links below are affilate links, meaning, at no additional cost to you, I will earn a commission if you click through and make a purchase.