Fruit and Soy Muffin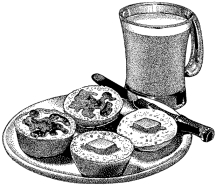 1 C soybean flour
1 C graham flour
1 tsp salt
2 tsp baking powder
2 T sugar
3/4 C skim milk (from powdered milk is fine)
1 egg
1 T canola oil
1/2 any type of dried fruit, chopped
Prepare a muffin tin by spraying the individual cups with a non stick cooking spray.
Preheat oven to 425 degrees.
Sift the two flours, salt and baking powder together in a mixing bowl.
Add the sugar and blend together.
In a separate bowl beat together the milk, egg and oil.
Add to the flour mixture.
Mix just until blended.
Fold in the dried fruit
Fill each muffin cup 2/3 full of batter.
Bake 20 minutes or until a toothpick inserted in the center comes out clean.
Using dried fruit will give your muffin a less sweet taste. You can use any type of dried fruit but be sure to chop it well before folding it into the batter.
The kids in our family don't really care much for these even when I use some of their favorite dried fruit, but I love them. Since I can't eat all of them before they start going stale I usually end up popping half of them in the freezer. Here are some tips on how to freeze these muffins.
Ready for another delicious freezer muffin? Try this mocha muffin recipe next for a delicious grown up taste.
Disclosure: Some of the links below are affilate links, meaning, at no additional cost to you, I will earn a commission if you click through and make a purchase.