Frugal Tips for Wearing Green
If you're heading out this weekend for St. Patrick's Day, be sure to put on something green to avoid getting pinched. Thankfully this year St. Patrick's Day falls on a Sunday, meaning that you don't have to worry about green clothes for the kids to wear to school if you don't want to. But for those of us heading to St. Patrick's Day Parades and festivals, wearing at least something green is a must.
When there's no obvious choice, use some or all of the frugal suggestions below before heading to the department store for a new green outfit.
Dig Through The Closets and Get Creative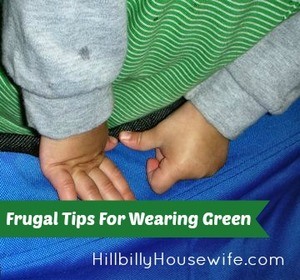 Start with what you already have in the house and get creative. Just because your son doesn't have a green shirt, doesn't mean you have to go out and buy him one. Instead, put that green t-shirt you own that's gotten a little tight and let him ware it over a long-sleeve T. Or add a belt and turn it into a dress for your little girl.
Use a small scarf as a headband, let the kids wear oversized sweatshirts etc. You get the idea. Just be creative and don't stop at the closets. Look around the house for anything green and see if you can turn it into something wearable.
Hit The Thrift Stores
My next stop is usually one of the local Thrift stores. Several of them are kind enough to sort their shirts and blouses by color making it easy to shop for something green. You may even get lucky and find a St. Patrick's Day shirt complete with four-leaf clover that someone else discarded after last year's festivities.
Borrow Something
The last option is to check in with close family and friends and see if you can borrow a green t-shirt, hat or scarf. This is usually my last resort because without fail something happens to the borrowed garment. But in a pinch, this is definitely an option, especially when the closing isn't something the person you're borrowing from would miss terribly if it got lost or damaged.
On St. Patrick's Day Everyone Can Be Irish

St. Patrick's Day gives us all an excuse to have some fun and eat delicious comfort foods.

Just thinking about corned beef, cabbage & soda bread give me goose bumps.  Those classic Irish dishes are among some of my favorite but it's fun when you can find new recipes that make your tummy happy.

Since St. Patrick's Day is just around the corner I thought it would be nice to put together some recipes and crafts and create a kindle ebook to celebrate.

You'll find delicious Irish food along with a bunch of crafts that your family will enjoy creating together.

And remember, with all Kindle ebooks, you don't need a Kindle to download them. Amazon makes it easy to put right on your computer, laptop, or other e-reader or device. And the price is right, too!

http://www.amazon.com/St-Patricks-Everyone-Irish-ebook/dp/B00BS9LGJG
Disclosure: Some of the links below are affilate links, meaning, at no additional cost to you, I will earn a commission if you click through and make a purchase.