Keep Track Of Leftovers With Dry Erase Board
I found that when I cleaned the fridge before grocery shopping I was throwing away leftovers that I had kept so as not to waste food.
To help me remember what was on the bottom all the way in the back  I put a small dry erase board on the fridge. Now when I put leftovers in the fridge I write them on the board.
Then it is easy to see what I have in there ready to be used up. It's also great on those days when appointments run longer than expected and you get home at dinner time.
Just look on the board and see what you can heat up!
It also helps the rest of the family find a quick meal or snack. I started adding a * to any items that needed to not be touched because I was planning on turning them into dinner that night.
For example… earlier this week we had broccoli and rice left over. I added some scrambled eggs and a bit of sausage and turned it into a quick stir fry.
You can find simple little white boards inexpensively, especially around "Back to School" time. Attach an erasable marker and you're good to go.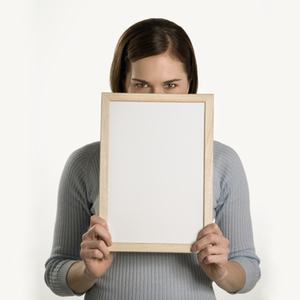 Highly Recommended – Penny Pinching Mama
Find out how Jill Cooper lived on $500 per month. This e-book is filled with over 500 practical, everyday ideas to help anyone stretch a small income.
Get your copy today at:
www.HillbillyHousewife.com/penny
Disclosure: Some of the links below are affilate links, meaning, at no additional cost to you, I will earn a commission if you click through and make a purchase.