Frugal Thanksgiving Shopping Tips
The following is a short excerpt from the Hillbilly Housewife Thanksgiving Planner available from Amazon. I hope you find my frugal shopping tips helpful as you prepare for Thanksgiving. 
Shopping for Thanksgiving Dinner can put quite a dent into your grocery budget for that week (or even all of November.) Below you'll find some of my favorite tips and strategies to get the best deals.
By far the easiest way to keep down cost is to ask everyone to bring a dish to share. Offer to cook the turkey and make a batch of hot rolls and let everyone else take care of side dishes, appetizers and dessert.
If that's not an option, or you prefer to do all (or most) of the cooking yourself, keep reading to make sure you get the biggest bang for your buck this Holiday season.
Shop Around And Take Advantage Of Loss Leaders
In the weeks leading up to Thanksgiving, grocery stores will do everything they can to get you in the door to do your shopping with them. One way they do this is by using something called 'loss leaders.'
These are items that they sell you at cost or close to it to get you in the store. The plan is to then entice you to buy all sorts of other stuff that the grocery store will actually profit from.
And guess what one of the biggest loss leaders is around Thanksgiving? Yes, it's turkey. Look through sales flyers and find the best deal for your turkey. If Thanksgiving is still more than 3 days away, opt for a frozen one and thaw it later in the fridge.
Baking supplies are also often on sale this time of the year. The one thing I noticed that made a pretty big difference on my own grocery budget a few years ago was spices. Look through your spice cabinet right now and see if you have everything you need.
I was running low on both Rubbed Sage and Poultry Seasoning and by the time I made it to the store they were completely sold out on store and bargain brands. I ended up having to buy what was left on the shelf, which, of course, was the premium brands, which cost three times as much as the store brands.
Sit down and figure out what you'll be fixing and then start keeping an eye out for bargains on anything you need. Don't forget about turkey roasting pans, oven bags, disposables and the likes.
If you can't find a good deal or a coupon for a particular item, large discount and warehouse stores like Wal-Mart, Costco, etc., are often your best bet for low prices.
Don't forget to stock up on containers and bags to store leftovers. You don't want to throw out half a yummy casserole because you have nowhere to put it. I like smaller containers and freezer bags because they allow me to cram lots of leftovers in even the smallest of spaces in my fridge and freezer.
Use Your Grocery Store Card Strategically
Many grocery stores that use customer cards (often called VIP Cards, Savings Cards, and Customer Loyalty Cards, etc.) will offer you a free turkey or even an entire holiday meal if you shop with them frequently.
If you can find an offer that appeals to you, it may be worth paying attention to how often you shop and what you spend. That free turkey may be worth an extra trip to the store to stock up on non-perishables to qualify for that week.
Adjust Your Menu According To What's On Sale
You know I'm big on planning ahead and making a menu. It's a great way to save time and money, but it is also okay to be flexible.
For example, if you were planning to make a broccoli casserole for Thanksgiving, but broccoli happens to be fairly expensive by the time you get to the store, it's okay to change your mind and make a green bean casserole instead.
Look for what's on sale and make it work, especially when it comes to side dishes.
The Hillbilly H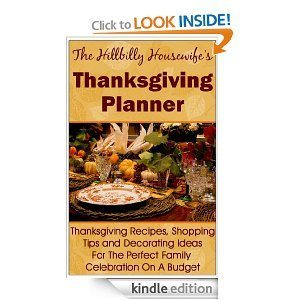 ousewife Thanksgiving Planner
Don't run around like a chicken (or should that be turkey?) with its head cut off on Thanksgiving morning. The Hillbilly Housewife's Thanksgiving Planner will help you plan ahead and stay on top of things so you can actually enjoy Thanksgiving with your family & friends.
If you take a quick minute to read the first chapter you'll realize how easy your Thanksgiving celebration will be. There are plenty of tips and ideas to make sure this year's feast doesn't stretch your budget to the breaking point, too.
There are also 2 bonuses tucked inside: A printable planner & checklist and all of the recipes in a printable pdf file.
http://www.hillbillyhousewife.com/thanksgiving 
Disclosure: Some of the links below are affilate links, meaning, at no additional cost to you, I will earn a commission if you click through and make a purchase.