Frugal Thanksgiving Feast – Tips For Saving Time and Money
I don't know about you, but when I'm in charge of hosting our family Thanksgiving dinner, I tend to become a bit of a control freak and end up trying to cook every single dish. Thankfully I have some wonderful women in my family who won't let me and we end up having Thanksgiving "pot luck style" where each of them brings a few dishes to share.  It works out beautifully.
I came across this article earlier today and it really struck home. I hope you will find the ideas and tips helpful as well.
Organizing a Thanksgiving Feast When Time & Money Are Short
Even if money and time are tight, you can have a wonderfully rich and full Thanksgiving. All it takes is a little organization and some willingness to let go of the need to do everything.
Sarah on "Never Look a Gift Horse in the Mouth"
"My mom is an incredible entertainer. She can cook like Julia Child, dress a table like Martha Stewart, and get people to dish like they're on Oprah – all after a full day's work at the hospital. It's pretty impressive. Her Thanksgiving dinners are legendary. But for the life of her, she will not accept a bit of help, even if that means she's up to all hours stressing and cooking in the days before the big event and running around like a chicken with her head cut off as friends and family arrive. Because she's my mom, I just stopped asking her if she wanted help and started bringing a side dish and a dessert to her house the day before Thanksgiving. It feels great to be able to contribute, and it means that there are a few less things for her to do, which means we'll get to see more of her on the big day. If you're hosting the big Turkey Day this year and have a tendency to do everything yourself, give your stress meter and wallet a break by letting others help by bringing a dish, some wine, or a dessert. Not only will it save you time and money, but more importantly, it gives them an opportunity to truly share in the day."
Alicia on "Relax Those Perfectionist Tendencies"
"The purpose of Thanksgiving is to celebrate all of those things in our lives for which we are truly grateful. It's not a contest to see how many fancy dishes you can cook or how perfectly you can decorate the table. Before you start on the preparations for this year's dinner, take a beat to think about the true spirit of Thanksgiving. Then relax. It's much easier to make decisions about what to serve and how to pull it all together when you're not putting pressure on yourself to pull off a 'perfect' event. You can have a wonderful celebration eating less expensive chicken instead of turkey and using paper plates instead of fancy dishes."
Here are a few more tips for pulling off a Thanksgiving feast that doesn't gobble up your wallet or too much of your time:
1. Make A Little Less. Do you really need 10 side dishes? And do you really need to make enough to feed 24 people when only 10 are coming? No. Sure, it's nice to have leftovers, but the more you make, the more likely you are to end up throwing things away down the line. This year, make one or two fewer dishes and make just enough for the group you have coming over.
2. Take 2 Minutes and Download Some Coupons. It has never been easier to use coupons. Before you hit the store, take five minutes and go to coupons.com and your local grocery store website and print out coupons for the items you know you will need to buy. No clipping from circulars, no fumbling for coupons at checkout only to find the ones you want to use have expired. Just point, click, print and bring to the store.
3. Use All Natural Decorations. Rather than heading to a fancy store to load up on Thanksgiving decorations, just head outside. Pine cones, colorful leaves and things like dried hydrangeas are free and make a wonderful decorative statement. Take a sharpie and write each guest's name on a leaf and use it as a place setting card. Gather a handful of pine cones and stack them loosely in the center of the table as an autumnal centerpiece. Clip some dried hydrangea leaves and flowers, tie them with some ribbon and put in a vase or two around the room.
Buttoned Up is dedicated to helping stretched & stressed women get organized. Co-founders Alicia Rockmore & Sarah Welch team up with a group of Gurus to give you tips & products for all your messy, stressed needs & introduce "imperfect organization."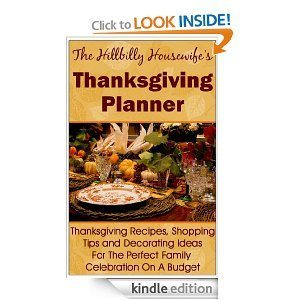 The Hillbilly Housewife Thanksgiving Planner
Don't run around like a chicken (or should that be turkey?) with its head cut off on Thanksgiving morning. The Hillbilly Housewife's Thanksgiving Planner will help you plan ahead and stay on top of things so you can actually enjoy Thanksgiving with your family & friends.
If you take a quick minute to read the first chapter you'll realize how easy your Thanksgiving celebration will be. There are plenty of tips and ideas to make sure this year's feast doesn't stretch your budget to the breaking point, too.
There are also 2 bonuses tucked inside: A printable planner & checklist and all of the recipes in a printable pdf file.
http://www.amazon.com/The-Hillbilly-Housewifes-Thanksgiving-Planner-ebook/dp/B00A81OQ56
Disclosure: Some of the links below are affilate links, meaning, at no additional cost to you, I will earn a commission if you click through and make a purchase.