Frugal Thanksgiving Decorations
Since Thanksgiving in the US is just a few days away, I thought I'd share some of my favorite frugal Thanksgiving decorating tips. It doesn't take much to make a pretty center piece or some mantle decorations. Use what you already have on hand or take a stroll around the yard and pick up some pretty fall items.
Here are a few ideas to get you started…
Anything from pumpkins to fall flowers can be used to make a pretty fall center piece. Use what you have and get creative. Dig out a bowl or basket and fill it with anything from before mentioned small pumpkins or even some pretty fall leaves and pine cones.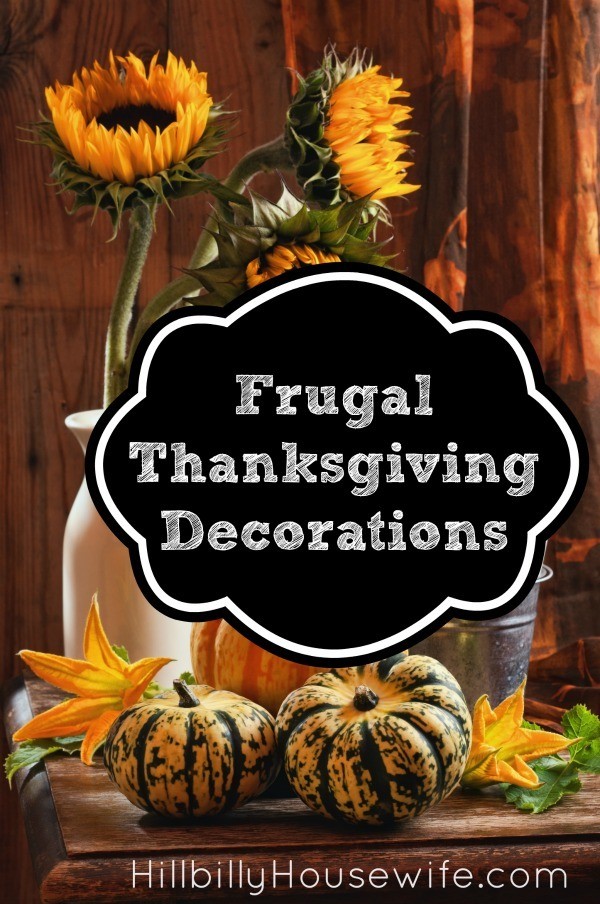 Many people associate the pilgrim's hat with Thanksgiving. You can create a pilgrim hat out of terracotta pot, black felt, and some yellow paper. Determine the size of the brim by rolling the terracotta pot in a circle, marking the top and the bottom until you get a complete circle. Cut out the shape on both lines, and cover the pot and brim with black felt. Cut out a buckle out of the yellow paper. Glue the buckle on the covered pot. After the glue has dried, put a potted flower inside and place it in the center of your table.
If you have plenty of apples, make them your center piece. Fill a bowl with them, or cut out part of the core on two of them and use them as candle holders. We are making some more turkey apples this year with the kids. It keeps them busy while the food is cooking and it makes for a cute decoration.
Here's another cute idea for the kids…let them create a Thanksgiving turkey out of a large paper grocery sack. Gather colorful fall leaves to use as the tail of the turkey. Fill the bag with crumpled newspaper and tie it off with rubber band to create the head. Draw on wings. Create a waddle and legs from construction paper. Glue the leaves on the flat part of the bag as tail feathers. Glue the waddle and legs where they belong. Don't forget to give your turkey eyes.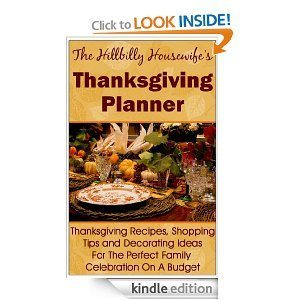 The Hillbilly Housewife Thanksgiving Planner
Don't run around like a chicken (or should that be turkey?) with its head cut off on Thanksgiving morning. The Hillbilly Housewife's Thanksgiving Planner will help you plan ahead and stay on top of things so you can actually enjoy Thanksgiving with your family & friends.
If you take a quick minute to read the first chapter you'll realize how easy your Thanksgiving celebration will be. There are plenty of tips and ideas to make sure this year's feast doesn't stretch your budget to the breaking point, too.
There are also 2 bonuses tucked inside: A printable planner & checklist and all of the recipes in a printable pdf file.
http://www.amazon.com/The-Hillbilly-Housewifes-Thanksgiving-Planner-ebook/dp/B00A81OQ56
Disclosure: Some of the links below are affilate links, meaning, at no additional cost to you, I will earn a commission if you click through and make a purchase.