Frugal Fun Activities For Kids To Do At Home
You knew it was coming. The kids are home all summer. You have your own work and chores to take care of and you can't spend all your time running around from one activity to the other.  You need ideas for quick and easy things to do around the house that won't require a big investment in time and money, but will keep the kids happy and entertained. Let's explore a few options here:
Cooking
Now is the time to get your kids involved in the kitchen.  Why?  Because summer cooking is usually so simple and easy.  We are normally pretty happy to eat on the run an
How about something as simple as PB&J?  To keep this favorite sandwich interesting, give your kids cookie cutters so they can create fancy hors d' oerves.  Pull out the pretty frilly dresses and have a whole dress-up luncheon on the patio.d snack on easy to prepare treats.  Take "Ants on a Log" for instance.  With just some celery, peanut butter, and raisins your kids can create their very own feast.
In order to make putting a meal together easier for your kids, you may want to cook
up a couple batches of fun pasta and rice and keep it in the refrigerator.  Have on hand a variety of ingredients like cut up vegetables, fruit, cheese, nuts, or whatever your kids like so they can throw together their very own casserole with little effort.  A cold pasta "casserole" with a little ranch style dressing, chunks of cheese, a handful of frozen peas, and maybe even some peanuts is a dish that's guaranteed to be kid-friendly when your kids are the ones who put it together.
Depending on the age of your children, put them in charge of as much of the preparation as possible.  When your kids make a meal, they not only learn about food preparation, but kids who help cook their own food often are more inclined to try new foods. Get out the ingredients and stand back and watch their creativity and curiosity grow.
Gardening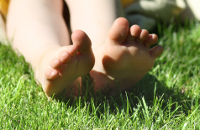 A great way to have your kids spend time outdoors at home in a busy, and productive way, is gardening.  Start with a couple cherry or patio tomato plants.  They're easy to grow in containers and produce fun food pretty fast.  If your kids don't like tomatoes, try planting sweet peas or lettuce.  Both are fast growing and will do just fine in a container. You can also have your kids plant easy flower gardens in containers or a small patch of earth near the house.  When the flowers bloom, be sure to encourage your child to pick them for table arrangements, or as gifts.  The more "activities" you can get out of your garden the better.
Start by choosing a sturdy outdoor-style planter.  Make sure it's washed clean, then have your child fill the pot with clean potting soil that's suitable for what you're planting.  Be sure your child has gloves, watering cans, and any tools that would be handy to use.  This not only is useful but it lets the child know their "hobby" is important.
With a little instruction your child will be able to plant a nice garden that will yield hours of enjoyment immediately and when it comes time to pick their produce or flowers.  The first blossoms are a thrill, then watching those blossoms open and become the fruit, vegetable, or flower pictured on the packet of seeds very exciting.
You can teach your child about "organic gardening" by planting a naturally pest-free mini-garden.  It's quite entertaining and easy to do.  Choose a larger container and plant a combination of plants that like each other and that fight bugs.  For instance, one classic arrangement would be a tomato plant surrounded by green onions and marigolds.  These three plants work well together fending off bugs while providing food and beauty.
With just a few reminders to weed and water their little garden, your child will enjoy an entire summer of surprises watching his or her garden grow.
Useful Creations
Kids like to sit down and paint, tape, draw, staple, and glue stuff together just for the fun of it.  However, these projects take on more importance when they end up being something useful.
When children work on a craft item that they know will be displayed and cherished, they will pay more attention to detail and take pride in the completion of the project.  For instance, do you have a box full of pictures waiting to get put into albums or frames?  If your child knew that you would put a collection of pictures in a album they created, they would take special care to create one for you, especially if you were to pick a place on the bookcase to display it.
Start simply by handing your child a picture you'd like framed.  Then, with your child, measure the picture and set out to help your child find a frame to decorate.  Garage sales and thrift shops are great places to find discarded frames cheaply.  Help your child to envision what he or she could do to decorate the frame.  Talk about painting it a different color or gluing on interesting items to make the frame more personal and fun.  Look for fun embellishments like buttons, old puzzle pieces, yarn, ribbon, pictures out of magazines, playing cards, or anything that you can think of that is fun.
Once you have a variety of frames and all your fun embellishments, get your crafting items together.  Be sure to have glue, scissors, paint brushes, and anything your child may need to complete the project.  Then sit back and let your child show off his or her creative genius!  This is a great project for picture albums, too.  You can purchase inexpensive photo albums and have your child embellish them, or you can build your own out of cardboard.
What other items can you think of that would be useful around the house?  How about a bulletin board, a box for your reading glasses, placemats, napkins, remote control corral, or coasters for the coffee table?  These are just a few ideas for things that could be useful; things that your child would take pride in creating and in seeing you use.  When your child is making something that will be used, he or she has a special interest in making sure it turns out well.  Kids will spend more time making an object that will be on display than on an object that will wind up in a keepsake box.
You don't have to go much beyond your own backyard to find ideas to keep your kids busy this summer.  Just in your day-to-day life you can find things to do with your kids, things you may do anyway, to keep your kids entertained and happy.  Create lasting memories with simple homespun activities you can do with your kids all summer long.
Disclosure: Some of the links below are affilate links, meaning, at no additional cost to you, I will earn a commission if you click through and make a purchase.