Fried Green Tomato Recipe
This is a wonderful recipe for that was passed down from my grandmother. It makes a great appetizer when you have company. I also like to make it for lunch when we have quite a few green tomatoes on the vines.
Fried Green Tomato Recipe
3 firm green tomatoes
1/2 cup flour
2/3 cup cornmeal
1/4 cup milk
2 eggs
1/4 cup oil
1/2 tsp salt
1/4 tsp pepper
Wash tomatoes and slice into 1/2 inch slices. Sprinkle with salt and set to the side for a few moments. Combine milk and eggs in a shallow dish. Place flour into another shallow dish followed by cornmeal in the last dish. Heat 2 tbsp oil in a skillet. Dip tomato slices into milk and egg mixture and then into flour. Dip slices back into the milk mixture and then into the cormeal and place into your hot pan. Fry for about 4 minutes on each side until golden brown, drain on paper towel and season with salt and pepper.
I hope you enjoy this fried green tomato recipe as much as me and my family have.
The Hillbilly Housewife Recommends:  Secret Restaurant Recipes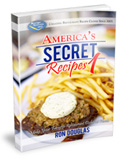 Don't spend a fortune going out to eat. Instead enjoy some of your favorite restaurant fare at home for a fraction of the cost.
These recipes are also perfect for dinner parties or a fun and special family dinner.
Get your copy today at:
Disclosure: Some of the links below are affilate links, meaning, at no additional cost to you, I will earn a commission if you click through and make a purchase.