Freeze Scouring Pads
The following is a great tip from a HBHW reader to keep scouring pads from rusting. 
Scouring pads begin to rust once they are wet. Cutting them in half doesn't work for big hands. I don't bother cutting scouring pads in half anymore. I use it and then pop it in a baggie to store on the freezer door.
When you need it again, the warm dishwater thaws it out quickly. Use it to scrub and then simply return it to the bag and refreeze. You can do it over and over again until it gets too yucky. Then throw it away. I also keep the baggie on the door for the next scouring pad.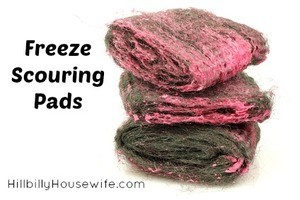 Disclosure: Some of the links below are affilate links, meaning, at no additional cost to you, I will earn a commission if you click through and make a purchase.