Free 2 Day Shipping With Amazon Prime – Frugal Tip
Over the past few years my Christmas shopping has changed dramatically. Yes, I still make quite a few homemade gifts, but my actual shopping has changed. I remember beating the crowds from Black Friday to Christmas eve trying to find that elusive toy or gadget. We do our best to give our family a nice Christmas, often being extra frugal throughout the rest of the year. To be honest though, the shopping part made me dread the holiday season. Thankfully online shopping came to my rescue. And one of my favorite places to shop for Christmas gifts is Amazon.com. You can find just about anything there and have it shipped right to your door.
Hubby and I have been a Prime member for a little over two years. Amazon Prime is a great alternative to Netflix and you get two day free shipping (with no minimum purchase). If you'd like to give it a try, safe on shipping for the Holidays and watch some fun Christmas Movies, click below to try Amazon Prime for free for 30 days.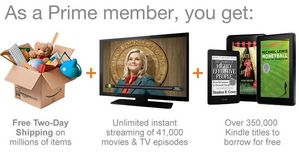 Disclosure: Some of the links below are affilate links, meaning, at no additional cost to you, I will earn a commission if you click through and make a purchase.