Fish Stick Supper
Makes 6 servings
1 12-ounce package frozen shredded hash brown potatoes thawed
4 eggs
2 cups milk
1 tablespoon dried minced onion
1 tablespoon fresh dill (or 1 t. dried dill weed)
1 1/4 teaspoons seasoned salt
1/8 teaspoon pepper
1 cup shredded cheddar cheese
1 12-ounce package frozen breaded fish sticks (approx. 18)
1.  Break apart hash browns with a fork; set aside.
2.  In a large bowl, beat eggs and milk.  Add onion, dill, seasoned salt and pepper.  Stir in hash browns and cheese.
3.  Transfer to a greased 11×7 inch baking dish.  Arrange fish sticks over the top.  Bake, uncovered, at 350 degrees for 50 minutes or until top is golden brown and fish flakes with a fork.  Let stand for 5 minutes before cutting.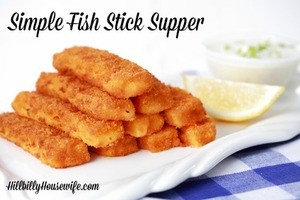 Disclosure: Some of the links below are affilate links, meaning, at no additional cost to you, I will earn a commission if you click through and make a purchase.