Father's Day Recipes For The Whole Day
The way to a man's heart is through his stomach.  This is never truer than on Father's Day. Cook up Dad's favorite dishes, and you will have a happy fella at the table.  Here are five dishes that are sure to please a hungry Father, from sunup to sundown.
Let's start with a hungry-man breakfast.
Hearty Sausage Quiche
1 pkg. sausages
1 Tbsp. olive oil
8 lightly beaten eggs
½ c. sliced green onion
¼ c. milk
½ c. diced sweet red pepper
½ to 1 c. shredded cheese
1 c. sliced mushrooms
1 tsp. salt
1 c. frozen hash browns
¼ tsp. black pepper
¼ c. Parmesan cheese
Preheat oven to 350° F.  Put foil into baking cups and set aside.  Cook and drain sausages.  Combine eggs, milk, cheese in a large bowl; add salt and pepper to taste.  In a large skillet, heat the olive oil over medium heat.  Add the vegetables and sauté until tender.  Combine egg mixture, sausages, and vegetables.  Pour even amounts into the separate baking cups and place in the oven until eggs are set, approximately 22 minutes.  Remove from the oven and sprinkle with parmesan cheese.
After a busy morning at work or play, doesn't Dad deserve more than a plain old bologna sandwich? Put this meal on the table and watch your Father's eyes light up!
Broiled Citrus Salmon
2 Tbsp. olive oil
1/8 tsp. salt
1 Tbsp. lime juice
1/8 tsp. pepper
1 Tbsp. lemon juice
4 (5-ounce) salmon fillets
2 tsp. molasses
1 orange, juiced
Preheat broiler.  Stir together olive oil, lemon and lime juice, molasses, and seasonings in a small bowl.  Place salmon, skin side down, into broiling pan.  Brush with juice mixture and broil until skin is crisp and flesh is flaky, approximately 7 minutes for each inch of thickness.  Remove and sprinkle immediately with orange juice.  Best served hot.
Dinner time on Father's Day means grilling time.  Get the ribs ready, then step aside and let the Master Grilling Chef begin!  Your job is to make it easy for him, and this recipe does just that.  Easy AND tasty!
Beer Marinated Ribs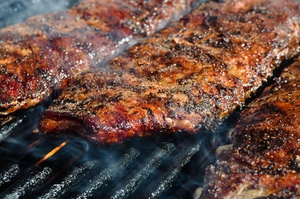 2 racks pork spare ribs, about 2 lb each
2 Tbsp. seasoning salt
6 bottles of beer
Coarse salt to taste
3 garlic cloves, minced
2-6 seeded and sliced jalapeno peppers
1 medium onion, thinly sliced
1 c. store-bought barbecue sauce
In a large saucepan, add all ingredients except ribs and barbecue sauce.  Bring to a boil.  Immerse ribs into liquid and bring back to boil.  Lower heat and allow it to simmer for one hour.  Turn off and cool.  Let the ribs remain in the liquid for several hours.  Refrigerate if necessary.  Remove ribs and pat dry.  Brush on barbecue sauce and place meat side down on the grill.  Cook 5-6 minutes, basting, until golden brown and crispy.  Turn over and cook until golden brown.
Since the grills hot, why not throw on another treat.  These flavorful mushrooms are the perfect side to grilled ribs.
Grilled Mushrooms
3/4 c. sliced fresh mushrooms
2 tsp. chopped thyme
2 red bell peppers, chopped
1 tsp. chopped rosemary
1 green bell pepper, cut into 1 inch pieces
¼ tsp. salt
1/4 c. olive oil
¼ tsp. ground black pepper
2 Tbsp. lemon juice
1 clove garlic, minced
Put the mushrooms and peppers on skewers.  Mix together all other ingredients and brush onto the mushrooms.  Grill for approximately 4-6 minutes, or until tender.
To to off the meal, treat Dad to a very simple dessert.
Chocolate Chip Ice Cream Sandwiches
8 chocolate chip cookies
ice cream
Take a chocolate chip cookie and spread ice cream on it.  Then put another cookie on top and press gently.  Wrap in plastic wrap and stick in the freezer for at least 30 minutes so the cookie is nice and cold.  Makes 4 sandwiches so maybe Dad will share!
After a day enjoying these yummy dishes, your Dad will be grinning from ear to ear.  Now, hand your Dad the remote and enjoy a special movie.  You made this Father's Day very special, indeed!
Disclosure: Some of the links below are affilate links, meaning, at no additional cost to you, I will earn a commission if you click through and make a purchase.