Father's Day Gift Ideas for Kids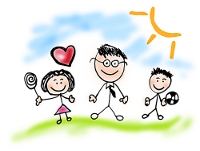 In a few days, Father's Day will be here. Your kids are probably trying to come up with unique ideas this year. To help them, and you, here are some Father's Day gift ideas for all ages.
* Make a Father's Day card using construction paper, crayons, markers, and stickers.  Draw Dad on the front with a few simple words written.
* Take teddy bears and dress them up with a hat, tie, and glasses and place a Happy Father's Day card in the bear's arms.
* Make a Father's Day breakfast for Dad and present it to him either in bed or at a specially prepared table.
* Make gingerbread cookies and use piping to draw Dad. The cookie can then be glued to a piece of cardboard and decorated.
* Present Dad with a "gift certificate" containing a list of chores they will do for Dad.
* Make a story book using construction paper, to tell about their Dad and why he is so special.
* Help Mom bake Dad's favorite cake and the kids can decorate it with Dad's favorite things.
* Make Dad a handprint using clay and sign their names on the palms.
* Make a special tie using strips of fabric that you decorate with your own drawings using fabric paint.  Don't forget to sign your name.
* Pick out some of your Dad's favorite TV shows or movies on DVD.
* Buy a subscription to Dad's favorite magazine.
* Give a gift certificate to a favorite store.
* Cook dinner for Dad.
* Decorate a big comfortable t-shirt with fabric paint and sign your name. Dad will love wearing this around the house to lounge in.
* Buy a small gift to help Dad enjoy his favorite sport, like a box of golf balls, or tennis balls.
* Make a simple remote control corral by decorating a sturdy box with construction paper.
These are just a few gift ideas for kids to either make or purchase for their Dad this Father's Day.  Sometimes, the simplest gifts are the most cherished gifts.  With a little thought and creativity, you can make this Father's Day special for the man or men that have given so much of themselves.  And don't forget; the most important gift of all is the gift of love.
Disclosure: Some of the links below are affilate links, meaning, at no additional cost to you, I will earn a commission if you click through and make a purchase.