Farmers Supper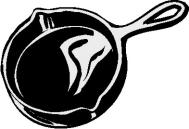 1/2 onion
2 to 3 slices of breakfast ham
1/2 green pepper (optional)
2 small potatoes (cooked – see directions below)
4 eggs
Start by dicing the onion, ham and green pepper. Get out your iron skillet and let it warm up over medium heat. Add a little oil to the pan. Add your diced ham, onion and pepper and allow it to cook until the veggies are tender.
If you have leftover baked potatoes, use those. If you don't have any leftovers, get out 2 small potatoes, poke some holes in the skin with a fork and then microwave them until they are tender (about 7 minutes). Season with salt and pepper to taste.
Slice your potatoes and add them to the pan. Cook them until the potatoes are warmed through.
Get out a small bowl and add the eggs.  Scramble them well. Add the eggs to the pan and cook until they are done, stirring and scraping with a spatula as needed.
I make this simple skillet meal for breakfast, lunch and dinner. For breakfast I serve it with sliced tomatoes and toast, for lunch and dinner with a green salad.
This recipe was passed down from the German side of my family. Small farmers would make it with what they had on hand.
Variations:
You can use chopped up bacon, or any type of leftover meat instead of the ham.
Instead of or in addition to the green pepper you can add just about any type of leftover veggie. If you are adding the veggies raw, add them with the onion and ham. If  you are using cooked veggies, add them after you add the potatoes.
If you'd like, you can sprinkle some cheese over the dish once the eggs are mostly cooked.
Disclosure: Some of the links below are affilate links, meaning, at no additional cost to you, I will earn a commission if you click through and make a purchase.