Fanciful Salads To Satisfy Every Appetite
If your salads are becoming boring, you need to re-think the basics and spruce up those greens. Check out these fanciful salads that boost your enthusiasm for eating these healthy sides and enjoy the crunch of some good greens for the picnic months ahead.
Robust Salads Are Built On Protein
Most salads have the right basic ingredients, they just need a little kick now and then to make them truly scrumptious. One way to add a powerful punch to your salad is to include some protein, namely in the form of seafood, meats, beans, cheese, or other protein sources that make a meal out of your salad plate.
Try fresh cooked shrimp, canned salmon or white albacore tuna on top of your bed of greens. Perhaps your salad would benefit from black or re-fried beans for a Mexican twist. Juicy grilled chicken, thinly sliced into strips, could add a smoky barbecue flavor to a simple salad. If you choose different marinades, you'll get different flavor influences. Think of marinading beef in Teriyaki before grilling.  Then those delicate, thin strips will blend well with ingredients borrowed from Asian cuisine.
Cheese is another good protein source for salads, and there's no need to settle for standard shredded varieties, either. Toss in some pan-fried goat cheese with pine nuts for a double dose of protein power. Explore a wide range of cheeses, including both the hard cheeses like Asiago, Parmesan, and Gruyere and the soft cheeses like Feta, Bleu, and Ricotta. Use fresh cheese and shave or crumble on top of your salad to add interesting textures, flavors, and protein, as well.
Sweet Salads Are Meant To Surprise
A classic salad that always surprises is the Waldorf salad, made with a variety of fruits, including apples, cherries, dates, grapes, or even fresh pineapple. Ambrosia salad is an explosion of fanciful delights, including bright colors and the sweet flavors of  mandarin oranges, blackberries, strawberries, grapes, coconut, and even maraschino cherries, but the name says it all, so don't limit your choices.
Then there are big fruit salad bowls filled with everything from watermelon to berries, bananas, and grapes, apples, kiwi, mango, pineapple, cantaloupe and a host of other fruits in between.  Add crunch with nuts like walnuts, pecans, pistachios, or almonds.
Using a light vinaigrette dressing may sound odd with all that fruit, but the touch of savory brings out the sweet juices and makes the salad taste all the better. You can also toss the fruit salad with a mixture of cream cheese and whipped topping, or vanilla yogurt. The options are as varied as your taste buds.
Gourmet Salads Call For Clever Ingredients
For a truly unique salad creation, you have to go deeper into the range of greens you use in your salads. Look at food in a whole new way and choose combinations of flavors and textures that will light up the eyes of guests as they taste your best efforts.
Try mixing eclectic greens like endive, arugula, and watercress with avocado, crab meat, Greek olives, and grapefruit, along with hard-boiled eggs for a fresh take on a classic salad. Sprinkle a touch of nutmeg and cinnamon with golden raisins and chopped tart apples, and toss with shredded cooked chicken or turkey, and a touch of balsamic vinaigrette for a delightful new salad. Go tropical with mango, papaya, figs, or summer melons, adding the right compliment of spice like ginger, curry, or fresh mint. Top with toasted coconut for a truly fanciful salad.
Seeds and Sprouts Add the Finishing Touch
No matter what you put in your salads, you'll always want to have an eye-catching topping that completes a gourmet creation you can be proud of. The best choices are often seeds and sprouts, since they add texture and depth to all types of salads for all types of meals. Seeds add color and dimension, almost a solid, formidable look, while sprouts are often heaped on in a big fluffy pile, providing a playful and unruly look to the salad.
For seeds, you could choose sunflower, pumpkin, sesame, milk thistle, or alfalfa seeds, just to name a few. With sprouts, you have mung bean sprouts, broccoli sprouts, and alfalfa sprouts. Then there are the lesser known choices like radish sprouts and clover sprouts. These types of ingredients go very well with most salads but especially with dishes that are made with quinoa, tofu, tempeh, and jicama.
Fanciful salads are perfect for picnics and cookouts. There should be nothing plain or boring when it comes to feasting in the great outdoors. With a little imagination, and time to seek out unique ingredients, we can walk away from conventional thinking and create wonderful, fanciful salads to enjoy.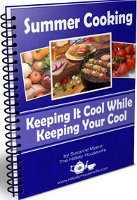 p.s. Summertime cooking calls for cool cooking. Whether you're grilling something scrumptious, tossing a tasty salad, or piling a sandwich high with goodies, you need recipes and ideas.
We've put together a nice collection of tips for cooking cool along with recipes for everything from grilled meats, vegetables, and desserts (yes, desserts!), to fruit salads, veggie salads, rice salads, and bean salads.
Put away your cast iron Dutch oven, your roasting pans, your soup pots… it's time to cook cool! Click on this link and order your copy of Summer Cooking – Keeping It Cool While Keeping Your Cool for ONLY $7 and start enjoying cool cooking today!
Disclosure: Some of the links below are affilate links, meaning, at no additional cost to you, I will earn a commission if you click through and make a purchase.