Family Movie Night – Frugal Summer Fun
Summer is almost over (we're going back to school next week), but there is time for a little more frugal summer fun. How about surprising everyone with a family movie night. There are lots of options here without breaking the bank. And no, you don't need to head to your local movie theater. It's easy to have just as much fun and still be able to curl up on the couch.  Let me show you a couple of free options and then some low cost ones.
Look At What's On TV
Start by looking through your TV listings to see if there's a family friendly movie coming on that everyone would enjoy watching. This works particularly well on Friday and Saturday night when networks tend to play movies. We've watched quite a few Disney movies this way. The best part… nothing special to set up and no extra costs involved. The only draw back is that you aren't flexible on what time to start your movie night and you can't pause for bathroom breaks.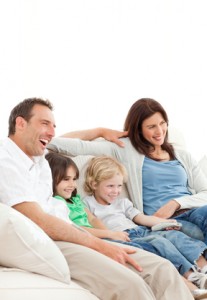 Check Out A Movie At The Library
Another great free option is to pick up a movie from your local library. If you haven't been there in a while, you may be surprised how many family friendly movies are available. My local one here has both VHS and DVDs available. Plus it's a great excuse to drag the kids to the library and have them check out some books as well.
Take Advantage of Netflix or Amazon Prime
If you have Netflix or Amazon Prime, it's easy to pick something for family movie night from the vast selection. We do quite a bit of online shopping and have Prime to get the free shipping. Being able to watch movies and TV shows is a fun bonus and usually what we turn to for family movie nights. Ready to give it a try? You can sign up for a free 30 day trial to Amazon Prime and take advantage of free shipping and watch over 40,000 movies.
Pick A Movie At Redbox
If none of the above work out, go find the closest Redbox to you. I'm seeing them at gas stations, drug stores and grocery stores all over the place. You can rent a movie right at the box and return it to the same place. You'll find some of the most popular recent DVD releases there for a buck or two.
Don't Forget About The Snacks
Last but not least, let's talk about some snacks. What would movie night be without some yummy snacks. Our favorite is a big bow of popcorn. Pop some buttered popcorn or Kettle corn and fix a water cup for everyone. We don't usually allow food in the living room, so that's always a big treat. Popcorn is easy to clean up even if it's spilled and the water goes in sports bottles or zippy cups.
Disclosure: Some of the links below are affilate links, meaning, at no additional cost to you, I will earn a commission if you click through and make a purchase.