Family Meal Planning – An Interview With Christine Steendahl

Christine, you've been meal planning for quite some time. You're actually the one that first introduced me to it. Tell us a little bit about how you got started with it and why you decided to give it a try in the beginning.

I tried meal planning initially right after I first got married.  I enjoyed the organization it brought and I enjoyed trying new recipes.  However, I did it when it was convenient, not out of routine.  Eventually it became a necessity.  I started consistent meal planning shortly after the birth of my 3rd child.  I had a 4 year old, 2 year old and newborn, so running to the grocery store each day to grab what I needed just wasn't practical anymore.  We were also fairly tight financially at that point in our life, so it was important to meal plan to keep us within our food budget.
How do you go about planning your meals? Do you have some tips you can share with us?
I generally plan a week at a time. A.)  I ask my family if there is anything in particular they would like to see on the meal plan for the week.  B.)  I look at the sale ads to see what is on sale, and see if that triggers any meal ideas.  C.)  I pull out one of my many cookbooks and search out at least 1 new recipe to try for the week.   I then make up my grocery list with the basic things we always need – you know milk, bread, yogurt, fruits & veggies etc., add any sale items I want to stock up on, and then of course add any items I do not have on hand to carry out the menu plan for the week.  Then I'm off to shop, and generally I don't have to return to the grocery store until the next week.
Do you change your meal planning around the holidays? I rather recently (in the past two years) discovered that planning ahead can make a big difference for holiday gatherings as well. What's your take on that?
Oh, definitely!  In the last couple years, now that we live far away from extended family, I haven't had to prepare large meals for lots of people.  However, our family still enjoys a nice meal for the holidays.  My seven year old looks forward to that all year I think!  He is always asking when we're going to have our great big holiday feast!  LOL  My goal for the holidays is to not be stuck in the kitchen all day long – I want to enjoy the day right along with my family.  Therefore, I try to shop as early as possible (not the day or two before the holiday) – before things get too crazy.  Then I try to prepare as many things as possible in advance.  If I can partially (or completely) make something and freeze it – great!  If I can partially prepare something a day or two ahead of time and pop it into the fridge – wonderful!  That way when it comes time for the big meal, I have as much as possible already prepared and can spend less time in the kitchen and more time enjoying my family.
What's your favorite recipe?
Oh goodness…  I think that changes a lot!   Currently one of my favorite main dish recipes is Glazed Meatballs.   I love to serve cheesy potatoes and salad or green beans with it.  In fact, I'm making this tomorrow for a friend who just had a baby.  Here it is: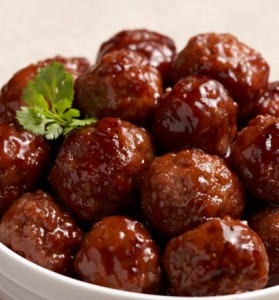 Glazed Meatballs
2 eggs
1 cups dry breadcrumbs
¼  cup finely chopped onions (or use dried)
1 teaspoon Worcestershire sauce
¼  teaspoon pepper
½  tablespoon salt
2 pounds lean ground beef
Combine all ingredients and shape into one-inch balls.  Makes about 6 dozen.
Place in single layers in baking pans and bake at 400 degrees for 10 to 15 minutes or until no longer pink.  May be frozen.
To serve:
Make Sauce
2 cups ketchup
1 1/2 cups brown sugar
½ cup chopped onion
2 teaspoon Worcestershire sauce
½  teaspoon garlic powder
Pour sauce over meatballs.  Bake at 350 for 1 hour.
Or put the meatballs and sauce in the crock pot and cook on low for four hours.
Tell us about Menu Planning Central and how it may benefit my readers.
Well, as you can imagine, menu planning is very helpful, but it is also quite time consuming.  It is not unusual for me to spend 2-3 hours (sometimes more) making my weekly meal plan.  Menu Planning Central has done all the work for you as far as creating your dinner menu goes.  We have family friendly, vegetarian, frugal, and healthy menus (with coordinating grocery lists) ready to go for you each month.  All you need to do is pick which menu you want to use and you are set – print, shop & cook.  We also have an exclusive online software program called "My Menu Maker" which allows you to choose recipes from our database, or enter your own recipes, to create the menu that is perfect for your family.  Then, you can quickly print off a shopping list and a copy of your menu and you are set.  We also have some great resources for you.  For example, in December we have a complete Christmas Planning Guide for you – featuring check lists, the Christmas menu & shopping list, ideas to keep the kids busy etc.  This sells for $20, but it is free for our Menu Planning Central members.
Thank you so much for taking the time to share your thoughts on family meal planning with us Christine. I've been involved with Christine's meal planning service for a few years now and LOVE it. If you'd like to join as well, please visit www.MenuPlanningCentral.com.
Update – I read a wonderful post on the making family dinner work for you and your loved ones and thought I'd share it. It is post on a blog called 3o Minute Martha and you can read it here:
Family Dinner – Making it Work For You
Disclosure: Some of the links below are affilate links, meaning, at no additional cost to you, I will earn a commission if you click through and make a purchase.