Falafel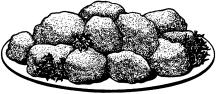 3 cups well cooked chickpeas; (2-15 ounce cans will equal 3 cups) drained well
1/2 teaspoon salt
1/4 teaspoon cayenne pepper
1 teaspoon dry parsley
1/2 teaspoon garlic powder
2 medium eggs
1/4 cup whole wheat flour
oil for deep frying
You want the chickpeas to be very well cooked so they are easy to mash. I always use canned chickpeas, because they are the cheapest for me. Dry chickpeas are $2 a pound in my area, and canned ones are 2/1$. The ways of the supermarket are strange to me, but I am flexible enough to get the best deal, one way or the other.
Drain the chickpeas and place them in a large bowl. Use a potato masher to mash the beans the same way you would mash potatoes. They taste best if they aren't too smooth, so be sure to leave them a little chunky. Add the salt, cayenne pepper, parsley, garlic powder and eggs. Mix everything together until you have a sticky mass. Add the whole wheat flour and mix again.
Meanwhile heat at least 2 inches of oil to 375�. Shape the chickpea mixture into small balls about the size of walnuts. Drop them into the oil and fry them until they are brown and crisp. Drain them on paper towels or a brown paper bag. Continue until all of them are cooked. Makes about 20 falafel.
If you prefer to bake these instead of frying them, then here is what you do. Generously oil a cookie sheet. Using about 2-tablespoons per falafel, shape the mixture into small patties. Arrange the patties on the well oiled cookie sheet. Flip each patty over so that it is lightly coated with oil on each side. Bake at 450� for about 20 minutes. Check them after 15 minutes, but they will probably need another 5 minutes to be good and brown. Serve hot the same as you would fried falafel.
If you loved this falafel recipe, you'll also like my home-style lentils and rice dish. And don't forget to brows through the rest of the bean and lentil recipes.
Disclosure: Some of the links below are affilate links, meaning, at no additional cost to you, I will earn a commission if you click through and make a purchase.