Facebook Frugal Tip Giveaway
Being frugal has become downright fashionable these days.  There are so many great ways to make the money last longer that I'd like to hear from you about how you help stretch the family budget and make the dollars go further.
In honor of Smart Money Week, I thought it would be appropriate to have a good old fashioned pot luck, but instead of each bringing a dish, everyone should bring their best tips for being frugal so we can all share ideas.
To make it fun, I decided to throw in a little giveaway and since pot lucks are social affairs, I thought I'd make this a Facebook event. I'll have 3 giveaways – all random drawings from the tips posted in the comments on the Facebook post.  1 of the drawings will be for any individual who contributes a frugal tip to the Facebook post. 1 of the drawings will be for a blog, website, or facebook page that contributes a tip. In keeping with the spirit of sharing, I will have a third drawing for one of your friends. In order for your friend to be entered, they don't even need to leave a tip (but we'd love it if they would).  All you have to do to get your friend entered is tag them in the comments under our Facebook post. They'll be entered just for being your friend and they won't be competing with you for a prize – they'll have their own drawing! What could be better than that?
Each individual winner will receive their choice any 3 of the Hillbilly Housewife ebooks from our collection.  Each blog winner will receive their choice of any 3 of the Hillbilly Housewife ebooks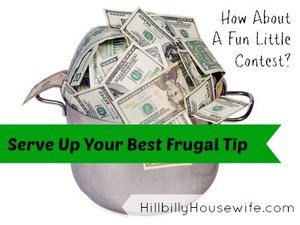 from our collection for themselves and an additional 3 books that they may give away to their readership in their own drawing, at their discretion.
The giveaway will begin today, April 8, 2014 at noon (EST) and run until noon (EST) on April 12, 2014. We will randomly draw a winner from all entries received via Facebook comments and announce the winner on our Facebook page on April 13, 2014.  We will post the winners on the Facebook page and make every attempt to contact them via Facebook. We will also send the winners out in an email to our blog readers, so you might want to get on the mailing list if you're not already.  If we do not get a response from the winners by noon (EST) on April 14, 2014, we will select another winner from the category in a random draw.

I can't wait to hear your ideas and will be sharing some of the best ones with Hillbilly Housewife readers on both the website and the Facebook page, as well as Pinterest, Twitter and sprinkled in a few more places, so be sure to tell us in your entry comment how you'd like your name or blog to appear on our website (first and last name, first name only, blog name, or if you'd prefer to remain anonymous) and if you'd like a link back to your own page!
Let's get started! Be sure to go to the post on the Facebook page and tell me your favorite way to be frugal so you can be entered to win!
Disclosure: Some of the links below are affilate links, meaning, at no additional cost to you, I will earn a commission if you click through and make a purchase.