Easy Homemade Macaroni and Cheese
Disclosure: Some of the links below are affilate links, meaning, at no additional cost to you, I will earn a commission if you click through and make a purchase.
Do you still make the boxed kind of Mac & Cheese? We did for the longest time. It was just so quick and easy to pick it up at the store and fix it as a quick side dish or a something for the kids to eat. But then I started to think about all the extra preservatives and colors in there … and let's face it, that yellow powder that comes with the box kind is not cheese.
I started playing around with some homemade recipes and came up with this version.
The recipe is from the Homemade Convenience Food eBook.
Macaroni and Cheese
Ingredients
1 1/2 cups elbow macaroni
• 1 1/2 cups grated sharp cheddar cheese
• 3 Tbsp butter, cut up into little pieces
• 1/2 cup milk
• salt and pepper to taste
Instructions
Boil macaroni until it is just tender, then drain.
Meanwhile, spray a casserole dish with nonstick spray.
After draining macaroni, pour 1/2 macaroni into casserole dish. Arrange 1/2 of the pieces of butter on top of the macaroni, then top with 1/2 of the shredded cheese. Repeat layers again. Pour milk over the top and add a sprinkling of salt and pepper to taste.
Bake at 350 degrees, uncovered, for 40 to 45 minutes.
No more need for boxed mixes. This is just as easy, if not easier; you don't have to stand and stir a pot.
While this takes a little time, it is well worth it. If you are in a hurry, just boil some pasta, drain it, put it in a bowl and add a little butter and grated cheese. Stir it all up and serve. It's not as good as the recipe above, but much tastier and healthier than the box kind.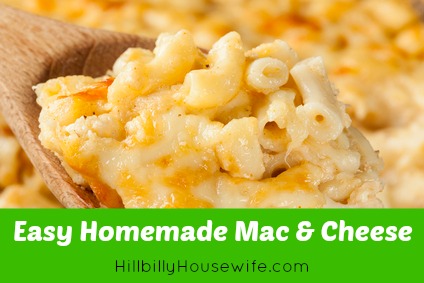 Make even more convenience foods right at home! You'll save money, control ingredients, and avoid expensive "fast foods" when you start making your own favorite convenience foods. Click on here to find out about our informative resource Homemade Convenience Foods – and dig into over 200 recipes for handy convenience foods you can make at home.

Eliminate those prepackaged foods from your pantry, eat healthier and cheaper while still cooking fast. Order your copy today!